Jurors begin deliberation in murder trial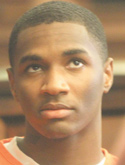 Photo
YOUNGSTOWN
A Youngstown man could spend the rest of his life in prison if a jury finds him guilty of killing his girlfriend and trying to kill one of her close friends in a 2010 West Side shooting.
Jurors began deliberating Monday afternoon in the aggravated- murder case against Melvin S. Shaw II, 20, of Idlewood Avenue. The 12 jurors and one alternate heard testimony all last week from police, the coroner's office and the surviving victim.
Shaw is charged with the aggravated murder of Tracee Banks, 17, and the attempted murder of Jamel Turner, 18, of Youngstown. In addition to the aggravated murder and attempted murder, he is charged with two counts of felonious assault and improperly discharging a firearm into a building.
Judge James C. Evans of Mahoning County Common Pleas Court is presiding over the trial.
Members of the jury, before being given the case for deliberation, heard closing arguments from Dawn Cantalamessa, an assistant county prosecutor; and Atty. Thomas Zena, representing Shaw.
Prosecutors contend Shaw dropped Banks off at a Manchester Avenue home June 19, 2010, so the teen girl could baby-sit. Shaw, however, returned to the house and opened fire, after becoming enraged over an argument or the presence of Banks' longtime friend Turner.
"June 19, 2010. What a nightmare for both Tracee Banks and Jamel Turner. Melvin Shaw caused that nightmare. He knew exactly what he was doing," Cantalamessa told jurors. "We have put a face to the monster who shot into that house that night, and that monster is Melvin Shaw."
Cantalamessa reminded jurors that Shaw knew the layout of the house and where to shoot into the building if he wanted to hit someone sitting in the living room. She also said jurors should keep in mind that Shaw had every opportunity think about what he was about to do and to walk away from the situation, but chose instead to fire multiple shots into the house.
Cantalamessa said Shaw's actions are telling in that he called and texted Banks the entire night of the shooting, but those calls and text stopped after the time when she was shot.
"He calls her back and forth all night long after the time he claims to have gone to bed, but not after the time she was shot," she told jurors.
Zena asked jurors to keep an open mind and disregard emotional aspects of the case that are not part of the evidence that can be used to decide Shaw's guilt or innocence.
"Don't close your minds," he told jurors during closing arguments.
Zena reminded jurors that Turner's first call after the shooting was not to 911, but to his brother, with whom he had been shot at only weeks earlier. He also reminded jurors that police did not speak with members of the Shaw family to verify Shaw's story that he was home sleeping at the time of the murder.
Zena also reminded jurors that Turner had to review a photo lineup four times before giving a tentative identification of Shaw as the shooter.
Deliberations will resume today.
More like this from vindy.com