Hunger strike ends at prison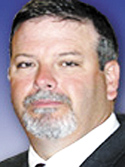 Photo
YOUNGSTOWN
A hunger strike among inmates at the Ohio State Penitentiary has ended, with none of its participants being taken to the Franklin Medical Center in Columbus, the OSP warden said.
The hunger strike, which began April 30, ended with its last two participants eating again last Wednesday, said Warden David Bobby.
As of early afternoon May 7, Bobby said there were 21 hunger strikers at OSP, which is on the East Side of Youngstown and known as the Supermax. The majority of the participants ate again on May 7 or 8, the warden said.
"I talked to the group on Monday [May 7], and they just decided to start eating," Bobby said, adding that he believes the hunger strike ended because prison officials spoke to the inmates and listened to their concerns.
The committee established to explore inmate complaints about high commissary prices still is investigating that issue, Bobby said.
Last week, Bobby vowed that no hunger strikers would die of starvation or dehydration on his watch and said any inmates showing severe symptoms would be transferred to Columbus.
Ohio Department of Rehabilitation and Correction policy says hunger strikers whose health deteriorates will be force-fed, if necessary. Had force-feeding been necessary, it would have been done at the Columbus facility, the warden said.
In a letter postmarked May 7, OSP inmate Marcus L. Harris told The Vindicator the inmates' biggest complaint is that they have no idea when they can earn their way from Level 5, which is the highest security level, down to lower security levels, where inmates get more privileges.
"What we're asking is to be given something to hope for," wrote Harris, 28, who is serving 53 years to life in prison for aggravated murder and other violent felonies.
"They have an annual security review" in which their behavior is evaluated for possible placement in a lower security level, Bobby said of the inmates.
However, even if their recent behavior has been good, inmates may remain at Level 5 "because of why they got there," the warden said, giving violence against a corrections officer as a possible reason for keeping an inmate at Level 5.
ODRC considers inmates to be on a hunger strike after they've refused nine- consecutive meals.
Bobby said the hunger strike was the largest he'd seen in his four years as OSP warden.