Girard batters break out big time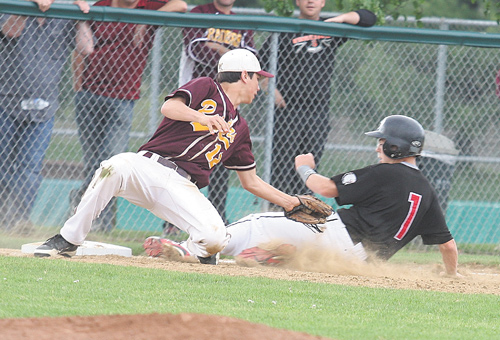 Photo
Jim Standohar (1) of Girard slides in behind the tag of South Range's Mason Miller (12) during their Division III district semifinal baseball game Monday at Cene Park in Struthers. The Indians blanked the Raiders, 10-0, and advance to play Ursuline in the district championship today.
By Greg Gulas
STRUTHERS
Girard High baseball coach Jason Johnson admits the Indians have struggled offensively this season.
So Monday's 10-0 victory over South Range in the Division III district semi-final at Cene Park was undoubtedly a welcome sign.
Jim Melfi scattered four hits while Dom Aurilio went 3 for 3, knocking in four runs with two doubles as Girard (19-9) advanced to the title game against Ursuline tonight.
"When you go out and can pitch with a lead, it sure does take a lot of pressure off you when you are on the mound," Melfi said.
"This win was a total team effort. Since it is tournament play, we all knew how important it was to just relax and go out and play our game," he added.
Three errors didn't seem to bother the Indians, who needed just five innings to dispose of the Raiders.
"Our fielding has been excellent all season long so to have three errors today was very uncharacteristic for us," Johnson said.
"Melfi has been our workhorse all season long and while we have struggled to give our pitchers much-needed run support, this was by far the best support that Jim has received all year.
"We usually don't score first and they say that the team that scores first usually wins 65, 70 percent of the time. You can do many more things when you are working with the lead.
"We also knew that South Range was an excellent team and when you are playing a team of their caliber, you can never have enough runs," he added.
The Indians took a 2-0 lead in the second inning on a run-scoring double by Aurilio and RBI single by Jim Standohar.
They sent 10 batters to the plate in the fourth inning, scoring five times on five hits and two walks and highlighted by Standohar's two-run single.
"We really haven't been hitting the ball too well lately so to score 10 runs and hit the ball like we did today, that's definitely a plus heading into the district title game," Standohar said.
Aurilio's second double of the game scored two more runs for the Indians while A.J. DeVore's opposite field single with two outs scored Evan Standohar to end the game.
"We got a great pitching performance from Jim and that was the key. I try to go up to the plate as if there are no runs on the board, knowing that we need a hit in order to score," Aurilio said.
South Range (19-8) coach Jim Hanek, who was disappointed to see the Raiders' season end, still felt his team had an excellent year.
"We swung the sticks really well this year but ran in to an excellent Girard team today," he said.
"Two big innings hurt us while they were able to capitalize on all of their scoring opportunities," he added.