Does the Valley reflect the mood of America on same-sex marriage?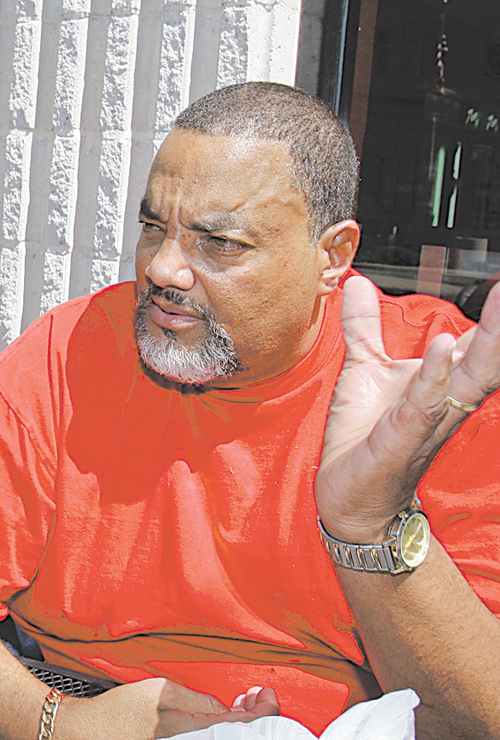 Photo
Andre Allie, 54, gives his views on President Barack Obama's declaration of support for gay marriage outside the Downtown Circle store and deli on West Federal Street. Although Allie is opposed to same-sex marriage, he still supports the president and his re-election.
By PAULINE ARRILLAGA
AP National Writer
YOUNGSTOWN
On the upper eastern edge of Ohio lies a valley built on the sweat of the working class, where steel mills sit mostly shuttered but a once-struggling Chevy plant endures. It is a place filled with union halls and blue-collar families for whom the auto bailout meant survival, delivered by a president many here see as their savior.
The Mahoning Valley is, without question, Barack Obama country.
And native Andre Allie is very much a Barack Obama man: An African-American who "went with history" by voting for him in 2008. A retired autoworker who made air-bag parts. A lifelong Democrat and union member whose wife, brothers, aunt, cousins are all Democrats and union folks, too.
But Allie is also a deeply religious man, an elder deacon at his Baptist church who quotes from the Bible with ease. And he fervently opposes what the president last week decided to publicly support. "It's wrong. Period. It's just wrong," Allie, 54, says of Obama's declaration in support of gay marriage, a milestone in politics this year.
But six months from an election that will decide whether the president keeps his job, a question hovers over the moment: Was it, somehow, a game-changer?
In different regions of a state where the election could be won or lost, voters themselves have been considering that. And their reflections reveal something far more pragmatic than an electorate that shifts its views because of the headline of the day, no matter how historic.
Allie is but one example, a voter as adamant in his opposition to same-sex marriage as he is in his support — still — of Obama. In his words: "The world is bigger than gay marriage."
OHIO'S UP-and-coming gay city
The bustling campus of Ohio State University in Columbus is where Obama, little more than a week ago, decided to officially kick off his campaign for re-election. It was a nod to the role young voters played in helping him win Ohio in 2008, but also to the importance of getting that vote out again in 2012.
With a robust gay and lesbian community, Columbus last year was recognized as an "up-and-coming gay city" by readers of the website GayCities.com, while OSU was ranked by Newsweek as one of the top 10 most gay-friendly colleges in the United States.
If Obama's evolution on gay marriage was meant, at least in part, to invigorate both young and gay voters, he may have succeeded at least with some.
Student David Achille, 25, last year went to New York to marry his partner, Edward, after Ohio in 2004 passed a referendum banning same-sex marriage. One day last week, Achille was standing inside a jail-like cage on the grassy "Oval" where students hang out, dressed in a firefighter costume to raise "bail" money for the gay men's fraternity Sigma Phi Beta.
He heard about Obama's statement on Facebook, then watched for himself on YouTube. He said it "kind of made me rethink everything."
"I was already an Obama supporter, but then that just kind of sealed the deal. We want the equality. We always want to fight for the gay rights. ... And now we have the president behind our backs."
Alyssa Price, 20, a bisexual woman studying neuroscience and psychology, had a slightly different take. She called Obama's comments "reaffirming," "sweet," "touchy-feely," even said she hopes it does turn out more gay voters, especially Log Cabin Republicans. "I think that would be cool." But she was already an Obama supporter and felt no more or less motivated to work on his behalf.
Even Michael Flannagan, a gay student who is the Obama campaign's campus leader at Ohio State, cautioned that students, no matter their sexual orientation, are hardly single-issue voters. "We care about our jobs and our future. We care about the world that's going to be left to us when we take over."
MAHONING VALLEY: BLUER THAN BLUE
The northern Rust Belt region that includes the Mahoning Valley is as blue as blue can get on the Ohio electoral map. Mahoning County, with Youngstown as the county seat, went almost 63 percent for Obama in 2008. To win Ohio again, Obama needs this slice of the state to turn out strong as much as Romney needs southern Ohio. Yet the president's comments left some of the Valley's Democrats wondering if he'd lose the blue-collar voters who comprise the base here.
"It's the kind of town that votes Democrat but probably is not in support of gay marriage," says Matt Bins-Castronovo, 38, a workers'compensation lawyer who was born and still lives in Youngstown. He completely agrees with the president's position but was annoyed by the timing, calling it "a silly thing to do at this point."
"I guess I'm looking at it through my isolated Youngstown, Ohio, shell. ... Who am I to judge how people will vote and why, what they deem to be more important than other things? But I do think it'll hurt him somewhat. Maybe not enough to lose, but I don't know."
VIEW FROM GM LORDSTOWN
Down the road in Lordstown, Glenn Johnson is president-elect of United Auto Workers Local 1112, representing employees at the General Motors plant that proudly advertises itself nowadays as "Home of the Cruze." Gay marriage, he said, simply can't trump what matters most to his members: Being able to provide for their families.
The union credits the Obama administration's bailout of the auto industry for revitalizing the Lordstown plant. Workers once laid off were rehired after the plant in 2010 began manufacturing the Chevy Cruze, and today some 4,500 people are employed there.
"If you are what I consider the three Gs — gays, God or guns — this may change your opinion of President Obama," Johnson said. "But if you look at the big picture of what he's done for our industry and for working families of this valley .... then you will do the right thing. The majority of our members are more concerned that they have a job."
The Obama campaign office in downtown Youngstown is papered with signs reflecting that sentiment: "This Valley Runs on Obama Power" and "Autoworkers Can't Trust Romney."