Three Valley high schools rank in top 10% in US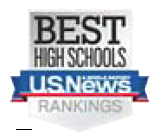 ---
By Denise Dick
Cortland
A national news magazine lists the country's best high schools, and though no Mahoning Valley schools cracked the top 100, three earned silver medals — placing them in the top 10 percent in the country.
Lakeview High School is ranked as the area's top school at 1,640th in the U.S. and 91st in Ohio, says U.S. News and World Report.
Poland Seminary High School ranked 1,725th nationally and 96th in Ohio, and Columbiana High earned the 1,837th spot on the national list and 102nd in the state. The three schools earned silver medals. Columbiana also earned a silver medal on the 2009 list.
That's the Valley's best showing on the list, which was last published for 2009. At that time, only Columbiana High achieved silver.
Walnut Hills High School in Cincinnati earned the state's top spot and ranked 90th on the national list.
"We're competing with some pretty good schools," said Lakeview Principal Richard Stevens. "It feels pretty good to have that high ranking. Our goal is to serve our students the best we can, and it appears we're doing an OK job, and this will give us the impetus to do even better."
The publication reviewed 22,000 public schools in 49 states and Washington, D.C., looking at how well high schools serve all students based on performance on state proficiency tests. Nebraska isn't included in the rankings. It also examined how well the schools prepare students for college-level work and took into account the number of economically disadvantaged students in the districts and students' participation in advanced placement courses.
Fourteen schools also earned bronze medals on the list, up from five the last time the list was published. Those schools are among the 4,877 highest scoring schools included in the review.
The bronze recipients are Bloomfield, Bristol, Canfield, Chalker (Southington), Crestview, Girard, Jackson-Milton, Lordstown, Lowellville, McDonald, South Range, West Branch, Western Reserve and Youngstown Early College.
Bloomfield, Girard, Leetonia, Struthers and YEC earned the bronze on the previous list.
Lakeview's Stevens said he's not surprised that the Valley's highest ranked school was 1,640th considering it's a national list and different states address school funding differently.
"I'd like to do better obviously," he said.
Still, the school is in the top 8 percent in the nation, according to the list, the principal pointed out.
"It's nice to be one of the best in the area, but again, it's going to drive us to do better," Stevens said. "With the state of Ohio changing from minimum competency test and transitioning to college and career readiness standards, at least we're heading in the right direction."
Poland Superintendent Robert Zorn is pleased with the ranking.
"I think that's exciting and good news," he said. "With all the levy fuss lately, I'm glad to hear some good news. I think everyone would have a right to be proud — faculty, parents, students — it takes everybody."
Zorn said he is surprised, however, that more schools from the area didn't rank higher on the list.
"But I'll take good news any day of the week," he said.
Don Mook, superintendent of Columbiana schools, agreed.
"In today's attack on public education, I can tell you that anything we can share with our public to let them know we're doing a good job and putting out a good product — and you get notification or verification from an outside group that's evaluating you — I would say it's a feather in our cap," he said. "I'm pretty pleased to see that. The top 10 percent in the nation speaks volumes."
Just like when a student scores proficient on a state test, the district wants that student to improve to an accelerated score, though there's always room for improvement, he said.
"I guess this would be no different," Mook said. "If we were a silver medal, we'd like to move up to a gold."