Mooney advances with dominant outing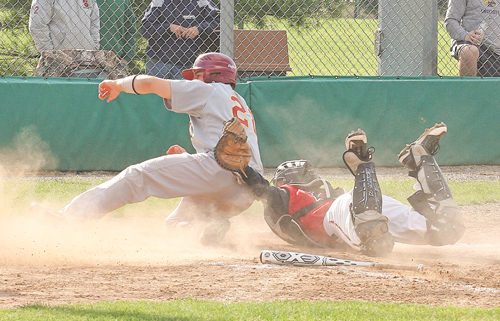 ---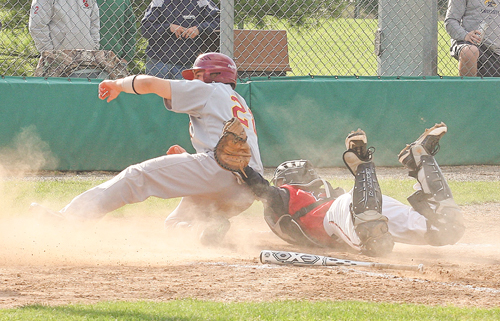 Photo
Drew DelSignore (22) of Mooney is tagged out at home by Struthers catcher Cody Bova during their Division II sectional semifinal baseball game Thursday at Cene Park in Struthers. The Cardinals defeated the Wildcats, 15-2, to advance to the final today against Niles at Waddell Park.
By Greg Gulas
Struthers
Last spring, the Struthers High baseball team defeated Cardinal Mooney in a sectional tournament game, advancing to the district.
For nearly a year, that loss weighed heavily on the minds of coach Al Franceschelli and his team, especially pitcher Dan D'Andrea.
Thursday, D'Andrea and the Cardinals got their revenge. D'Andrea scattered six hits as Cardinal Mooney defeated the Wildcats, 15-2 in a Division II sectional semifinal at Cene Park.
Mooney advances to play No. 2 seed Niles today at Waddell Park.
"It's never a bland game when these two teams get together and yes, last season's loss was our total motivation," Franceschelli said.
"Playing the type of schedule we did this year was really beneficial. We knew we were going to have some growing pains because of our youth but we never backed down, crediting that tough schedule now for getting us prepared for tournament play.
"We start early and our players hit quite a bit at our facility in the offseason. This team has never quit and we just feel right now as though we are coming together at the right time," he added.
D'Andrea said the key was working ahead in the count and working with a lead.
"I played third base last year and that loss denied us from advancing to district play. It was really the only motivation that we needed today," he said.
"Coach [Franceschelli] just told me to stay ahead in the count and that's what I tried to do. Working with a nice lead is also a bonus."
After a scoreless first inning, the Cardinals' Brandon Sklenar hit the first of his two doubles to key a six-run uprising in the second, giving Cardinal Mooney the lead.
The Cardinals sent 11 batters to the plate in the second, and batted around twice in the game.
"We're coming around and clicking on all cylinders at the right time; especially our defense," Sklenar said.
"Dan [D'Andrea] was really clutch for us today. To take the early lead was really important," he added.
The Wildcats (11-10) cut the Mooney lead to 6-2 in their half of the second inning on RBIs by Gary Muntean and Anthony Lariccia.
A run-scoring triple by Nick Buffa then keyed a three-run uprising by Mooney (16-10) in the third frame as they increased the lead to 9-2.
Sophomore Drew Beck's double to lead off the fourth inning resulted in another Cardinals' run while a two-run single by Gino DiVincenzo keyed a five-run uprising in the fifth inning for the Cardinals.
"It's a lot easier to play the game with a nice lead and that is exactly what we did today. This was a big win for us, but we must now take care of business against Niles if we expect to advance any further in the tournament," Beck said.
While disappointed, Struthers coach Mike Donatelli told his team it can still finish the season on a positive note against Poland on Monday.
"It all comes down to pitching and when you walk nine batters like we did today, they then had the opportunity to pick their pitch with runners on base," Donatelli said.
"We have a make-up game with Poland on Monday and I told our seniors that they can still go out on a positive note," he added.
D'Andrea improved to 3-4 with the win while Struthers starter Roman Salinas fell to 3-4 on the season with the loss.