Choffin students bond with birds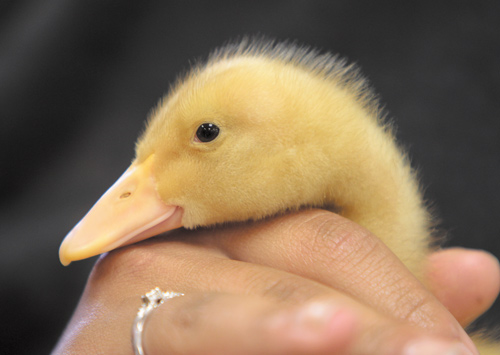 Photo
Waffle, a duckling hatched in the biotechnology class at Choffin Career and Technical Center, takes in his surroundings from his perch in a student's hand.
By DENISE DICK
denise_dick@vindy.com
YOUNGSTOWN
There comes a time in every parent's life when he or she must release their young ones into the world to fend for themselves.
Students in the biotechnology program at Choffin Career and Technical Center got some early exposure to that, sending off to live on a farm a chick and a duck they watched hatch.
Juniors Isis Hilson and Deja Sharafan cuddled the small birds.
Muffin, the chick, hatched April 30 and Waffle, the duckling, came into the world a week later.
Waffle has grown attached to the students, following them around the classrooms, squealing to get their attention.
"That's called imprinting," said biotechnology instructor Holly Welch said of the birds following the students.
The feeling is mutual.
"It's sad, I don't want them to go," Isis, 17, said. "I want to keep them to the end of the school year. We could get a little pool."
Welch, though, explained that Muffin and Waffle will be happy on the Vienna farm owned by the school's culinary arts instructor. That's where the eggs came from as well.
They'll be used as egg producers, she said.
"They won't end up as Kentucky Fried Chicken," Welch said.
The students said they made sure of that.
The birds are part of the class's embryology project. The eggs arrive, and students watch their development.
"We candle them," junior Sami'yah Saulsberry, 16, said.
They held a flashlight under the egg each day to watch as the chick and duck developed.
Welch explained that students watched as veins and organs developed inside the egg. The chick hatched in 21 days and the duck, 28 days.
"We watched them while they were hatching," said Junior Troy Blackmon, 18.
Isis said she wanted to help the duck as he struggled to get out of his shell, but Welch told students the birds had to do that for themselves.
It's a lesson about life too, Welch said.
The class got 20 chicken eggs, but only 10 were fertilized. Four hatched, but Muffin was the only one to survive. Fifteen duck eggs arrived at the school; six were fertilized and one hatched.
"They learned about survival of the fittest," she said.
Though Waffle is a friendly duck that likes to be picked up and cuddled, Muffin is less so.
The chick prefers to be left alone to walk around the class.
He's fond of junior Miesha Starkey though, allowing her to scoop him up and hold him.
Miesha, 17, said while her classmates flock to the duckling, she prefers the chick.