Official: Canfield superintendent finalist 'proved himself'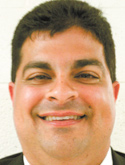 Photo
By Elise Franco
CANFIELD
Alex Geordan is eager to begin his tenure as the Canfield School District's new superintendent.
Geordan, 43, was hired Tuesday night after an hourlong public interview session and a four-hour-long executive- session interview with the school board.
Board President Adrianne Sturm said the board came out of executive session and approved Geordan's hiring about 11 p.m. Tuesday.
She said the public forum gave the board a chance to see how Geordan interacted with teachers, students and community members, as well as how he fared answering questions in a public setting.
"He proved himself in the stakeholder interview, and the follow-up interview with the board, as the person to lead our district in a collaborative effort which includes students, parents, staff and community," Sturm said.
The board approved a three-year contract that will begin Aug. 1. Geordan's base salary will be $105,000 per year. He currently is the superintendent of the Pymatuning Valley School District, where his annual salary is $93,636.
The base salary for Dante Zambrini, who will retire July 31 after 36 years in the district, is $103,399 annually.
Sturm said the board's decision to offer Geordan more money was based on his worth.
"It's not unusual for that to occur. You pay what you need to pay to get the right, qualified candidate," she said. "The board feels he's worth the additional money."
Geordan was hired as the Pymatuning Valley superintendent in 2008, but he has ties to the Mahoning Valley, beginning his career in 1994 as a teacher in the Warren City School District. He had administrative positions within the district from 1998 to 2001 before moving on to administrative positions in the LaBrae School District in Leavittsburg from 2001 to 2008. He also had several coaching jobs in the Warren and LaBrae school districts.
Geordan said during Tuesday's public interview that as a Mahoning Valley native, Canfield is his dream job.
"I don't think you can go anywhere in Northeast Ohio better than Canfield," he said. "This is where I want to be. This is not a need move; it's a want move."
Geordan said he's excited to take over at the helm of a district he holds in high regard.
"I look forward to an exciting opportunity working with an excellent board of education and staff in Canfield along with creating long-lasting relationships with an outstanding community," he said in a news release Wednesday. "We have a great opportunity to do wonderful things for a tremendous Cardinal student body, but we must never forget that we must do it together as an entire Canfield community."
Sturm said Geordan will work with Zambrini during a transitional period that will be laid out in detail in an upcoming meeting with the board and both men.
She said the district and community must recognize Zambrini's accomplishments during his 12 years as superintendent and welcome Geordan as its new leader.
"Certainly [Zambrini] was one of many great leaders in this district. He has served his time here in Canfield very well," she said. "You expect that somebody is not going to be here forever, and you look forward to a new era."