Former Valley pair applauds Obama's gay marriage stance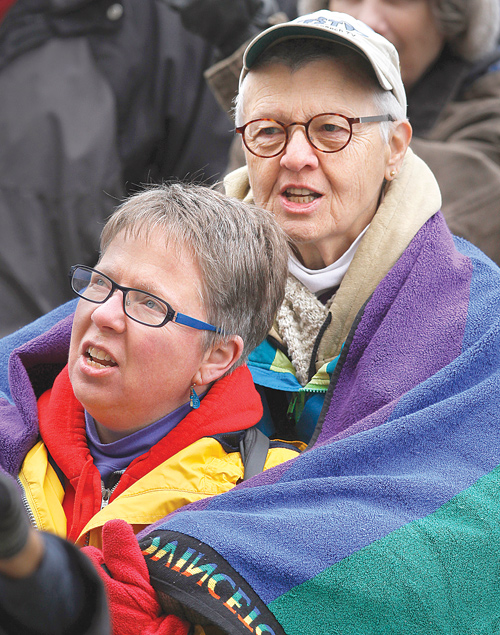 Photo
Glorianne Leck of Bloomington, Ind., wraps a blanket around her partner, Susan Savastuk, during a March 2011 rally at the Indiana Statehouse. Leck and Savastuk had a commitment ceremony in Youngstown in 1995 and support same-sex marriage.
By Ashley Luthern
aluthern@vindy.com
YOUNGSTOWN
It's been almost 17 years since Glorianne Leck and Susan Savastuk had a commitment ceremony in Youngstown, and their relationship still is going strong.
The couple, who now reside in Indiana, cheered President Barack Obama's pronouncement Wednesday that he supports same-sex marriage.
"It's been slow, but it's progress, and I think it's to be credited to education of young people who are not threatened by gay people. I think this is really a generational thing," said Leck, who taught at Youngstown State University for 30 years and recently received the university's Heritage Award.
Leck said she was surprised when a Vindicator reporter covered their 1995 commitment ceremony. She said she and Savastuk planned the ceremony, in part, because they were assured they wouldn't lose their jobs as a professor and nurse, respectively.
"We didn't want to live in the closet; it's a terribly frightening place. We wanted to live our lives open and honest," Leck said.
They went through commitment training before exchanging vows, but even though they had a marriage-strength commitment, they did not have the legal rights of marriage.
"We've had to write contracts. For example, we have a contract so we could be the primary visitor in the hospital. We each have control of the other's body after death. ... If you're gay and not married, then you don't have any of those rights automatically," she said.
Leck said attitudes about same-sex marriage are changing and the president's statement mirrors that.
Anita Davis of Youngstown agrees.
Davis is one of the founders of Pride Youngstown, a nonprofit organization that advocates for the local lesbian, gay, bisexual and transgender (LGBT) community. The group has an annual Pride festival, which is scheduled for June 30 this year and will include commitment ceremonies.
"There's a greater percentage of people — not that they approve of same-sex marriage — but they don't see why there would be a prohibition," Davis said.
"What's the difference? Marriage is marriage. It's a declaration of your commitment to another person," she added.
But in Ohio and many other states, there is a legal difference. A 2004 Ohio constitutional amendment that defined marriage as a union between one man and one woman was approved with 61.7 percent of the vote.
That won't change because of the president's remarks. In fact, the president said in the same interview that states should continue to decide the issue independently.
Pastor Kenneth Donaldson of Rising Star Baptist Church on the city's East Side said the president's comments haven't changed his opinion.
"It does not surprise me one iota. It doesn't surprise me because he's always supported [same-sex marriage.] That's why I never voted for him," he said.
The Catholic Church has been very clear in its position on same-sex marriage, said Monsignor Robert Siffrin of St. Edward Parish.
"We are very concerned about supporting family and traditional marriage because of the good that we see that comes from it. We're not taking a stand against anyone; it's a stand for marriage and family life," he said.
But even among clergy, support for same-sex marriage can be found.
The Rev. Bradley Pace of St. John's Episcopal Church said same-sex marriage, while a "very, very complicated issue" for theological, political and philosophical reasons, has general support from the Episcopal Church.
"The Episcopal Diocese of Ohio has sanctioned same-sex marriage, so we're working on liturgies now," he said.
He added that he was impressed by the president's remarks partially because they came so soon after voters in North Carolina approved a constitutional amendment that defined marriage as a union between a man and a woman.