Countdown to casino opening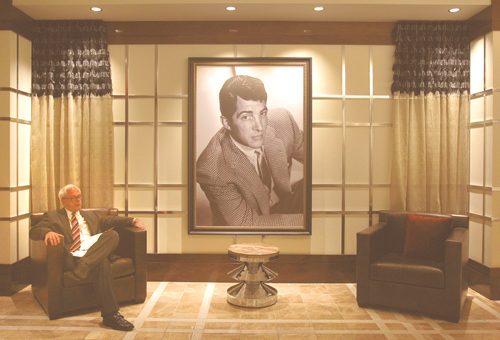 Photo
A television reporter sits in the lounge reserved for high-end gamblers during a press tour of the Horseshoe Casino Cleveland on Wednesday. The $350 million casino project is scheduled to open to the public Monday.
Associated Press
CLEVELAND
The phantom money was flowing Wednesday at Ohio's first casino, with cashiers practicing for next week's opening and no one going home a loser.
Developers of Horseshoe Casino Cleveland opened the doors for a media tour, and there was plenty of nongambling action.
Lighting fixtures were adjusted, workers fine-tuned slot machines and dealers practiced pep rally-style chants to get in a smiling mood. The chants will be a standard pre-shift routine when the casino opens Monday.
At the cashier windows, employees practiced by lining up to get a phantom payout. Colleagues behind the counter accepted make-believe chips and carefully counted out nonexistent money.
"Have to count it for you," said one rookie cashier, acting out slapping six $100 bills on the counter.
A "winning" cashier, 59-year-old Daniel Seman, of suburban LeRoy, took the phantom money but had nowhere to put it.
"No pockets," he said, gesturing to black slacks which, as a security precaution, omit pockets. He keeps his wallet and personal items in a locker while at work.
The no-money practice went smoothly for Seman, who comes to the casino job from semi-retirement. And, he said, "We do practice with paper money and chips."
The $350 million project is in the city's old Higbee department store. Additional space will be added later in a second construction phase.
A Toledo casino will open in late May, followed by casinos in Columbus and Cincinnati. Voters approved casinos in 2009, in part with the promise of creating jobs. Opponents included church groups concerned about increased problem gambling.
The Cleveland casino promised to hire more than 90 percent of its work force from Northeast Ohio and said it has exceeded that with about 94 percent of its 1,600 employees hired from the metropolitan area.