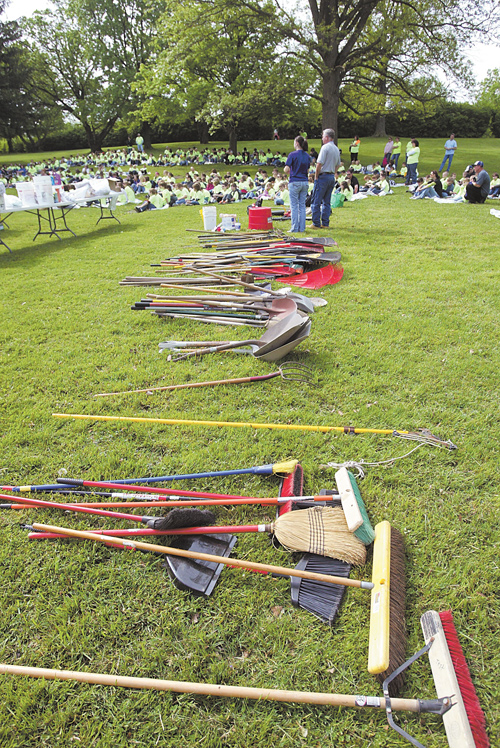 Photo
Brooms, rakes and shovels lie waiting for more than 300 students from Heartland Christian School at Firestone Park in Columbiana. Students, listening to director of school and community relations Linda Brandenstein, gathered at the park Wednesday to weed, paint and clean for School Service Day.
By Sean Barron
COLUMBIANA
It was a good day for hundreds of students at Harvey S. Firestone Park, but a bad day for weeds that had sprung up, thanks to youngsters such as Nate Montgomery.
"Normally, a lot of kids think of it as a day off school," the 14-year-old Heartland Christian School eighth-grader said, referring to Wednesday's fifth annual Service Day at the park. "It's a day of putting into practice what we've learned."
Nate, who lives on a 140-acre farm in Columbiana, was one of an estimated 300 students in kindergarten through grade 12 who participated in the effort to prepare the 60-acre park for summer recreational activities. Also assisting were about 50 parents and Heartland teachers.
The effort also was to instill in the youngsters the importance of giving back to their community and reaching beyond themselves, organizers said.
Nate was part of a group that removed weeds from fencing surrounding the park's tennis courts. For him, though, the work meant more than beautifying the courts.
"It's never too early to work with God," said Nate, who hopes to attend a Christian-based college, enter the seminary and become a minister.
Students in light-green T-shirts, along with the adults, grabbed gloves and plastic garbage bags, rakes, push brooms, hand-held and deep-root cultivator tools, shovels, pruning shears, paint rollers and brushes, and leaf blowers, then fanned throughout the park to set to work. Projects included adding mulch and flowers to the swimming-pool entrance, cleaning seats at the football stadium, sweeping and blowing debris, washing service vehicles, picking up litter, spray-painting several bicycle racks and removing weeds from areas such as the tennis courts, baseball field and park entrances.
Helping get rid of tall thistles and other weeds from one of the entrances were several of Bill Henry's students, including ninth-graders Shelby Esenwein and Katie Flynn, 14 and 15, respectively.
"We want to get this cleaned up and real nice," Shelby said. "I like serving God and cleaning up his world."
Echoing that view was Katie, who said her long-term plans include majoring in business management and possibly attending a college in Florida.
The two girls knelt down and busily removed tall grass from under a hedge and said they enjoy making the park more pristine for visitors and others.
"It's good to see [the students] put into action what they believe," added Henry, a social-studies teacher who's been at Heartland 15 years. "They have a good attitude."
Elsewhere in the park, youngsters and their teachers added a coat of deep-red paint to several park benches and washed bleacher seats.
Some, including 10th-graders in Teresa Robinson's group, applied silver spray paint to bicycle racks that hadn't been treated in more than a decade.
"I think they're looking pretty good," Robinson, a teacher who works with gifted elementary-school students, said of the racks.
A $600 grant from the Columbiana Community Foundation made the painting projects possible, noted Linda Brandenstein, Heartland's director of school and community relations.
The work was age- appropriate, meaning that the elementary-school children picked up trash and raked leaves while the older students painted and planted flowers, for example, she explained.
"I love for the students to serve," Brandenstein said. "That's something we're hoping to instill in them, and hopefully it will continue throughout their lives."