Sheriff Altiere's son could be freed in 30 days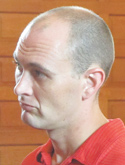 Photo
By Ed Runyan
WARREN
Thomas Altiere Jr. will get a third chance to avoid a drug conviction, but he'll spend at least 30 days in prison first.
Altiere, 33, of Royal Troon Drive in Howland, son of Trumbull County Sheriff Thomas Altiere Sr., was taken Tuesday from the Trumbull County Courthouse to begin a prison term that could last as long as 17 months.
Visiting Judge Richard D. Reinbold Jr. of Stark County said Altiere's attorney, Gary Rich, will be allowed to apply for judicial release for Altiere after 30 days.
At that time, the judge will determine whether Altiere can leave prison and return to treatment or whether he'll have to remain in prison, Judge Reinbold said.
"If your conduct is not appropriate ... you will serve the 17 months," the judge said.
The origin of Altiere's troubles is a charge of deception to obtain a dangerous drug filed against him by the Ohio State Pharmacy Board, alleging that in early 2011 he used deception to obtain prescriptions from multiple doctors and multiple pharmacies.
He was offered a program called Treatment in Lieu of Conviction, which allows a defendant to have the charge dismissed if he's successful in treatment.
He used drugs while on the program, however, so Judge Reinbold gave him a second chance March 16 but said Altiere would go to prison if he violated the terms of the program again.
On April 20, he was arrested and placed in the Trumbull County jail for failing to report to the Trumbull County Adult Probation Department and failing to take a drug test.
On Tuesday, Judge Reinbold said failing to report and failing to take the drug test, among other things, suggested "a long line of you don't believe we [the criminal justice system] are serious."
"A lot of people with substance abuse have the uncanny ability to manipulate," Judge Reinbold said, adding later, "I wasn't impressed with your attitude the last time, and I'm even less impressed this time."
In March, Altiere told the judge he'd be entering a 30-day residential treatment program at Glenbeigh of Rock Creek, followed by 12 weeks of outpatient care.
But because of cost and insurance issues, that was changed to an outpatient program in Niles, said Tracy Hunt, a Trumbull County probation officer.
As part of Altiere's outpatient program, he was required to report to Hunt on one of the first days when he was not required to attend the outpatient program, Hunt said. The reason was to give Altiere "something to do each day," she said.
Altiere failed to report for that meeting and also refused to do several other things Hunt asked, Judge Reinbold said.