Published: Wed, May 9, 2012 @ 12:00 a.m.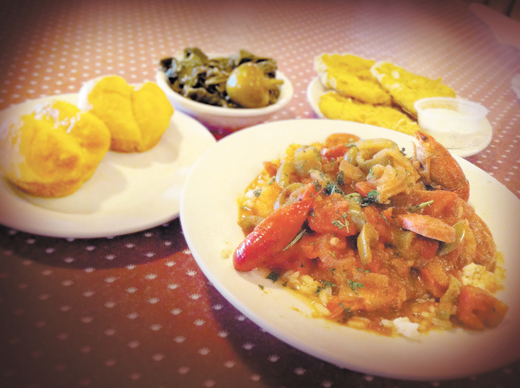 Photo
Monteen's Southern Cuisine's signature Jambalaya dish served on a bed of rice topped with andouille sausage, fresh tomatoes, okra, celery, peppers and crawfish. Served with a side of breaded fried green tomatoes and collard greens.
When You Go...
Monteen's Southern Cuisine
3807 Belmont Avenue
Youngstown, OH
Phone:
330-759-3699
Hours:
M-Th: 11:00am – 10:00pm
Fri-Sat: 11:00am – 11:00pm
Sun: 9:00am – 5:00pm
By Ross Morrone
When I hear the term soul food, in my mind I taste food that is relaxing. Breaded chicken dropped in hot oil until golden brown and served with mashed potatoes and corn.
Although simple in theory, adding spices to the breading can introduce an entirely different mix of flavors and transform your comfort food into something more.
Everything about Monteen's Southern Cuisine on Belmont Avenue in Liberty screams comfort food, but I had to take a taste to see for myself.
Owner Monteen Taylor got me excited over the phone when she mentioned one word to me as I explained that I would be stopping by to try her signature dish: jambalaya. If there is one meal on my lost island scenario, it is jambalaya.
Unfortunately in this area, this dish has had a 99 percent fail rate for me in the past. It seems that most places leave out key ingredients that make this comfort food truly comforting.
But the dish presented before me at Monteen's had both the perfect seasonings and ingredients for a tantalizing jambalaya — andouille sausage, fresh tomatoes, okra, celery, peppers, and crawfish served over a bed of rice with a tiny amount of broth left to soak into the rice.
This dish is about using those ingredients to make the flavors of this southern meal come to life, and Monteen's does it flawlessly.
I was beyond excited. Fork after fork I shoveled this perfect jambalaya into my mouth until there was nothing but broth left. I grabbed that up with some bread, though, leaving an easy job for the lucky dishwasher on this one.
As if I did not already feel comforted, this dish came with two perfect sides that I did my best to alternate between my jambalaya madness. Fried green tomatoes breaded in corn meal, and collard greens with a plump cherry pepper to squeeze some sweet heat onto. Both sides were the ideal accompaniment to this meal and stood as unique flavors on their own terms.
At the end of the meal, as we discussed her background, Monteen said she feels as though Youngstown chose her. For many reasons, since opening this restaurant she believes that she has something truly unique to offer to Youngstown cuisine that was passed on to her from her own family recipes.
After this perfect jambalaya signature dish, I am glad she is here because I have found my new favorite comfort food restaurant.