New basketball bosses hired at Harding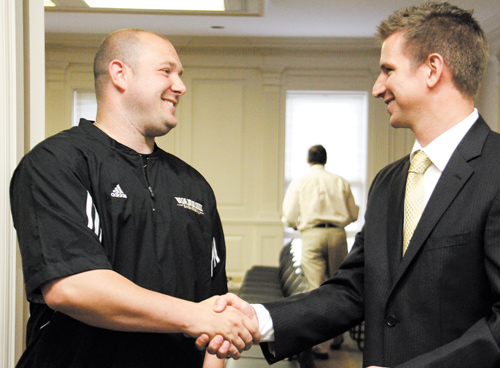 ---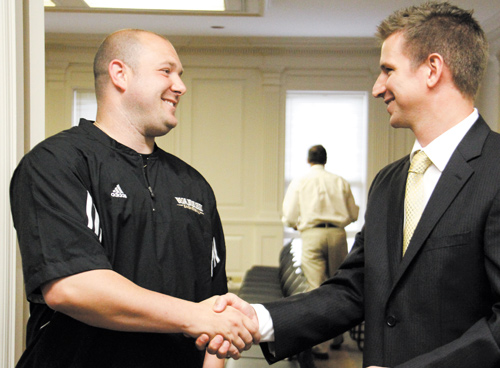 Photo
Frank Caputo, left, and Andy Vlajkovich shake hands after being named the new girls and boys basketball coaches, respectively, at Warren Harding High School during a board of education meeting at the Warren administration building Tuesday.
WARREN
The Warren Board of Education pulled the personnel equivalent of basketball's one-and-one play when it approved the hiring of two basketball coaches Tuesday afternoon.
Andy Vlajkovich was elevated to head boys coach, while Frank Caputo Jr. moved up to head girls coach at Harding High.
"The biggest thing we feel good about is that we were able to promote from within," athletic director Paul Trina said. "Anytime you have an opportunity to have two quality people who are within your program and you have the ability to promote within, there are a lot of advantages."
Vlajkovich, who will be 32 next week, was most recently a one-year assistant under Steve Arnold and, previously, Vlajkovich was head coach at Rootstown for three years. The former Canfield High player was also a boys assistant at Boardman and Canfield.
"I came over here last year [2011-12] as an assistant and worked with Steve and really enjoyed our kids and how important basketball is to them and to the community," Vlajkovich said. "Basketball is a very important part of my life and it seems we have a good fit with our kids and my style."
Caputo, 29, who was an assistant under P.J. Notar for four years, said he'd try to follow in Notar's footsteps.
"He put it in place and had 14-plus wins every year for four years, so I'm hoping I can keep pace with him that way," Caputo said. "If the kids work hard, we can do some good things here."
Vlajkovich uses the players as his gauge of support.
"Our kids are excited," he said. "We've had 25-30 kids at open gym.
Of his perception of the Warren public's response, Vlajkovich said: "Being in the system helped me. I think I've gotten positive feedback. I think a lot of people are excited about me and my staff being here and keeping the Raiders on top."
Vlajkovich, a Warren city social studies teacher who is placed at the juvenile justice center, said his intention is to continue a fast-paced style.
"We're going to play as fast as we can, but, at the same time, when we want to focus, we need to execute in the halfcourt. We're going to execute in the halfcourt and get after people in a man-to-man defense."
Although a smooth transition is anticipated, Vlajkovich said that a dearth of experience on the roster may be a bump during the adjustment period.
"I think our talent level is OK, but I worry about our experience. We lose eight lettermen from the previous year, but that's not going to be an excuse. There will be some growing pains, but I think we've got some good, young talent coming. Kids in Warren like to play."
Vlajkovich was asked what he learn from Arnold.
"Steve's an unbelievable program manager. That's probably the thing I've learned: how to handle this size program. He's a great coach and a great leader and has that CEO mentality. The way he carries himself and the way he carried his program is the No. 1 thing I've learned from him."
Does Vlajkovich represent a new chapter in Warren basketball?
"Yes and no. I want to continue the success they've had here. I'm not on an ego trip to put my stamp on this program. I'm here to serve the community of Warren and to do what's best for our kids. It's a new era, but, hopefully, the success doesn't change and we'll try to keep the tradition going."
Caputo, who teaches physical education and health at Jefferson Elementary, doesn't see much of a drop-off, either.
"I've been here with him [Notar] and we did the same things. So, I'm going to keep the tempo the same and defensive-wise and offensive-wise it's going to be tweaked a little, but, for the most part, it's going to be the same."