Canfield schools, finalist for chief seek the right fit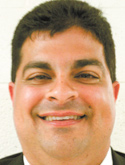 Photo
By Elise Franco
Canfield
Alex Geordan says the Canfield School District must want him there as much as he wants to be there, in order for him to be a perfect fit.
Geordan, the remaining candidate in the search for a new superintendent, was in the hot seat Tuesday afternoon during a public interview before both a panel and about 110 parents, students and staff of the district.
Superintendent Dante Zambrini will retire June 1.
The board of education's decision to hire Geordan will come down to whether the board believes he's the right fit for Canfield, said board President Adrianne Sturm.
Geordan, 43, current superintendent in the Pymatuning Valley School District, sat before a panel of teachers, administrators, community, students and nonteaching staff. The panel fired questions at Geordan for more than an hour, focusing on topics such as budgeting, levy issues, district priorities, leadership skills, longevity and continuing the district's self-proclaimed tradition of excellence.
Geordan began by outlining his past educational experience. He was hired as the Pymatuning Valley superintendent in 2008 but has ties to the Mahoning Valley, beginning his career in 1994 as a teacher in the Warren City School District. He had administrative positions within the district from 1998 to 2001 before moving on to administrative positions in the LaBrae School District in Leavittsburg from 2001 to 2008. He also had several coaching jobs in the Warren and LaBrae school districts.
Asked why he wanted to leave Pymatuning for Canfield after just three years, Geordan said that as a Mahoning Valley native, Canfield is his dream job.
"I don't think you can go anywhere in Northeast Ohio better than Canfield," he said. "This is where I want to be. This is not a need move; it's a want move."
One point Geordan made clear was that if he's hired by the board, he would come into the district asking questions, especially when it comes to ballot issues.
"We need to find out why folks are voting 'no' on these levies," he said. "We need to continue to have a dialog about it, find out why and then listen to that."
Geordan declined to give his opinion on Canfield's past levy attempts, other than to say that residents have to trust the administration before they'll pass a tax issue.
"Funding is a concern when you want to offer a top-notch education, and that funding has to come from the taxpayers because it won't come from the state," he said. "But you have to prove to the community that you're listening to them before they'll do that."
Geordan was brief in discussing open enrollment and pay-to-participate because he wants to gather more information about how each topic relates specifically to the district.
He said he wouldn't want to make decisions regarding Canfield based on what other school districts have done.
"As a community, we would have to have a lot of discussion about something like [open enrollment,]" he said. "I've already gotten a strong negative view on it from folks I've talked to here so far."
After the public session, Geordan spent several more hours interviewing with the board behind closed doors.
Some in attendance said they wanted the next superintendent to be more visible and accessible within the district.
Jamie Gianbattista, a sophomore, said Geordan's responses and demeanor made him seem relatable.
"Overall he seems like he'd be willing to listen and consider our thoughts," she said. "That's there now, but there's always room to improve, and he would be there to make those improvements."
One attendee said, "I like that he wasn't afraid to say, 'I don't know.'"