Man gets 3 years' probation for threat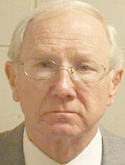 Photo
Staff report
CLEVELAND
A 64-year-old Canfield man has been sentenced to three years' probation for making a death threat by telephone against U.S. Rep. Bill Johnson of Marietta, R-6th.
James J. Shuba drew the sentence Monday from U.S. District Court Judge Christopher A. Boyko after Shuba earlier had pleaded guilty to making a threatening interstate telephone call from Ohio to Washington, D.C.
Judge Boyko also fined Shuba $3,000 and ordered him to perform 40 hours of community service.
Last June 23, Shuba told a congressional employee: "Bill Johnson is a g--d---- son of a b----, and I hate him. I wanna kill him. He wants to end Social Security and Medicare. I hope he dies. He should be dead," according to the federal grand-jury indictment.
In a sentencing memorandum filed Friday, Shuba's lawyer, Damian A. Billak of Canfield, told the judge his client should be put on probation, rather than sent to prison because he has no prior criminal convictions and had no intention of carrying out his threat.
"Mr. Shuba's comment was motivated by his political beliefs, and he has never been in any trouble," Billak wrote.
"Mr. Shuba is deeply remorseful, ashamed and embarrassed by his conduct. Mr. Shuba would never have acted on his words. He poses no further risk of future offense," Billak wrote.
Shuba is married, has two adult children, and is a postal retiree, who served in the Ohio National Guard, Billak added.
"It is not necessary to incarcerate to promote respect for the law or to provide just punishment," Billak added.