Hunger strike continues at prison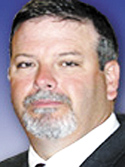 Photo
YOUNGSTOWN
As 21 Ohio State Penitentiary inmates continued their hunger strike into its second week, the prison warden vowed that no inmate will be allowed to die of starvation or dehydration on his watch.
"The policy is clear. If the medical staff determines an inmate is in danger because of his hunger strike, then we will take measures" spelled out in a state prison policy manual, said OSP Warden David Bobby.
"It is the policy of the Ohio Department of Rehabilitation and Correction to monitor any inmate who is participating in a hunger strike and to force treatment before death or serious, irreversible damage to life-support systems or major organs occurs," according to the ODRC policy that took effect April 18, 2011.
The hunger strikers are demanding lower commissary prices, the opportunity to earn more recreation and out-of-cell time and programs to teach them trades and help them cope with the sensory deprivation stemming from being locked into their cells 23 hours a day.
Inmates are considered to be on hunger strike after they have refused nine consecutive meals. The prison medical staff daily monitors the health status of hunger strikers.
If the institution's chief medical officer finds it necessary, the policy says the hunger striker is to be taken to a medical facility, in this case ODRC's Franklin Medical Center in Columbus.
So far, Bobby said none of the OSP hunger strikers have been transported there. The hunger strike began April 30. OSP, also known as the Supermax, is on Youngs-town's East Side.
Symptoms that may lead to a transfer are a change in mental status, loss of vision, serious infection or signs of significant electrolyte imbalance, the policy says.
Signs of electrolyte imbalance include slurred speech, muscle spasms or weakness and irregular pulse.
In the medical facility, each hunger striker is to be kept "in a locked medical isolation room without access to other inmates," monitored by the medical staff, and evaluated by a psychiatrist for mental competency.
Any force-feeding would be done at the Columbus facility, Bobby said.
"We are fed the bare minimum. Our trays are the same size of the lunch trays kids in grade school get," complained Donald A. Brown, an OSP inmate, in a letter to The Vindicator. Because of the small meal portions, Brown wrote that inmates are forced to supplement their meals with costly snacks they must buy from the prison commissary.
Brown is serving 30 years on a series of burglary, theft and escape charges from Allen, VanWert and Putnam counties, and is scheduled for release Dec. 11, 2032.
Bobby said the prison menus and portions are standardized statewide.
He added that none of the issues leading to the hunger strike have been resolved. However, he added: "We've had discussions about several of the issues."
He also said he met with the hunger strikers Wednesday, and Deputy Warden Jeff Remmick met with them Thursday. Bobby said he planned to meet again with the hunger strikers later Monday.
The hunger strikers are among 112 OSP prisoners in Level Five security. Level Five, which features 23-hour-a-day lockdown, is the highest level in the state prison system. Inmates are assigned to that level because of their bad behavior and violent tendencies, Bobby said.
Ohio's state prison system has 49,853 inmates, said JoEllen Smith, ODRC communications chief.
If an inmate's behavior improves and he becomes less dangerous, he can earn reassignment to a lower level of security with more out-of-cell time and other privileges, Bobby said.