Wish recipient thanks students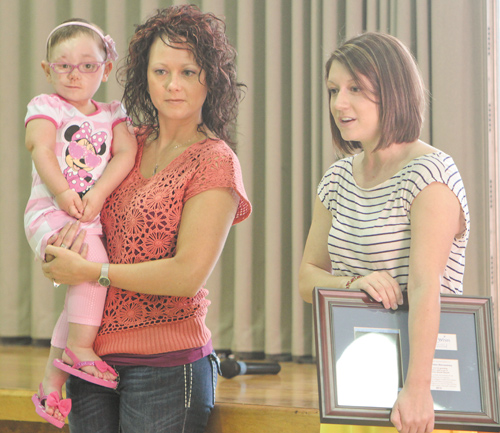 Photo
Madison Antal, 5, and her mom, Cristal Antal, both of Lordstown, left, presented an appreciation plaque Thursday to Poland Union Elementary students who raised funds to support Madison's Make-A-Wish project. Make-A-Wish representative Kim Sazima, right, also was on hand to thank the students.
By Ashley Luthern
aluthern@vindy.com
POLAND
Five-year-old Madison Antal loves princesses.
So it was no surprise that when the Lordstown girl presented an appreciation plaque to Poland Union Elementary students Thursday, she wore pink from head to toe and tiny rhinestone crowns twinkled from the frame of her pink glasses.
Madison was at the school with her mom, Cristal Antal, also of Lordstown, to thank Poland Union students for funding her Make-A-Wish dream: to travel to Walt Disney World.
"Thank you so much. It was awesome," Madison told students during an assembly.
Union Elementary students raised $6,000 in two months, with most of the money donated during a Radio Disney dance party at the school, said Principal Michael Masucci.
Although Make-A-Wish has worked with Poland schools before, this was the first partnership at Poland Union Elementary, said Kim Sazima, a Make-A-Wish development associate.
The Northeast Ohio region of Make-A-Wish has granted 2,389 wishes since it was founded in 1983 and 207 wishes are pending, according to its website.
Madison was born with epidermal nevus, which generally means an overgrowth of skin cells. She was later treated for rickets, a softening of bones.
Then, Madison was diagnosed with rhabdomyosarcoma, a cancerous tumor of the muscles that are attached to the bones. It is the most common soft tissue tumor in children. She underwent chemotherapy for 58 weeks, Cristal said.
The Disney vacation was a welcome break from day-to-day activities.
"It's overwhelming. You can't really describe it. Sometimes you think you're in this by yourself, but this support from family and friends, it's just been overwhelming," Cristal said.
Madison presented a thank-you plaque to Union Elementary and visited each of the school's classrooms. Third-grade student Mason Matiste said it was nice to meet Madison and that it gave more meaning to the donations he and his classmates collected.
"It makes me feel like we did something we should be proud of," Mason said.
His principal agreed.
"This plaque is a constant reminder of the good thing you did," Masucci said. "You look around this gym and you see [posters with] the words 'Kindness,' 'Compassion,' and 'Courage' and those are all words that describe you, and all those words describe Madison and her family."