Ohio State Pen inmates launch hunger strike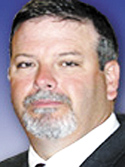 Photo
YOUNGSTOWN
A large hunger strike is under way at the Ohio State Penitentiary, according to the prison's warden David Bobby and two Valley lawyers who once represented penitentiary inmates in a federal class-action lawsuit.
Attys. Staughton and Alice Lynd of Niles said they received a telephone call from an OSP inmate they know late Wednesday, during which the inmate said about 48 of his fellow prisoners were taking part in a hunger strike.
At that point, they had refused nine consecutive meals since Monday at the prison, commonly known as the Youngstown Supermax, the inmate added.
"The guy who phoned us we consider highly credible," said Atty. Staughton Lynd. Lynd and his wife declined to identify the caller to The Vindicator.
Warden David Bobby said 30 inmates have refused to eat since Monday. Eighteen of the 30 had missed nine consecutive meals as of Thursday morning, he said.
"Not everybody started all at the same time," he explained.
Inmates are considered to be on a hunger strike after missing nine consecutive meals, Bobby said. "It'll eventually get to 30 if they don't eat," Bobby said, adding that this is the largest hunger strike he's seen in his four years as warden of OSP, which is on the city's East Side.
After inmates miss nine consecutive meals, the prison medical staff assesses and weighs them and explains to them the consequences of not eating, the warden said.
The hunger strikers are among a group of 117 OSP inmates on Level 5, the highest security level, Bobby said.
"Even if I have one guy that's on a hunger strike, I take it seriously," the warden said, adding that he met with five hunger strikers for nearly three hours Wednesday.
"We're going to continue to communicate with the inmates and talk to them, and, obviously, listen to their concerns," he said. If there are issues the prison administration thinks it can address, it will explore whether changes need to be made, he added.
The caller said the hunger strikers demand lower commissary prices, the opportunity to earn more recreation and out-of-cell time through good behavior and programs to teach them trades and help them cope with sensory deprivation linked to 23 hours of solitary confinement daily, the Lynds said.
"The harder you work, the more you behave, the more you get," Bobby said of inmate privileges. By working, Bobby said he was referring to participation in self-help, anger management and substance-abuse recovery programming.
The caller said the warden formed a committee to compare OSP's commissary prices with those of other prisons in response to the hunger strikers' demand for lower prices, the Lynds reported.
However, Bobby said the committee was formed at least two weeks ago.
The demands reported by the caller are consistent with a list of demands contained in a letter The Vindicator received last week from Supermax inmate Marcus L. Harris, which announced that the hunger strike would begin Monday.
Harris, 28, is serving 53 years to life in prison on aggravated murder, kidnapping, aggravated robbery, aggravated burglary and felonious assault charges that originated in Jefferson County.
In his letter, Harris complained commissary prices can be marked up 35 percent above retail prices, while many inmates receive only $8 per month, that food portions have been reduced, and that recreation totals as little as four hours a week.
However, Bobby said the commissary markup is 22 percent over what OSP pays for the snack foods and personal hygiene items the commissary sells. Commissary profits pay the commissary workers and pay for movies, arts and crafts materials and recreational equipment for inmates, Bobby said.
Menus and food portions are standardized through the state prison system, and all inmates get at least five hours of recreation each week, Bobby said.
"There has recently been a major ban on books and music in an attempt to stymie culture and limit education," Harris wrote.
The Ohio Department of Rehabilitation and Corrections has a central book, magazine and CD screening committee in Columbus, and its decisions, which are based on security concerns, apply to the entire state prison system, said JoEllen Smith, ODRC communications chief.
Banned items include some types of pornography, CDs with "very explicit lyrics" and items that incite violence, Bobby said.
"We are sensory deprived, underfed, isolated with little or no movement, unable to hug our children, family and friends," Harris said.
The Lynds' class-action lawsuit on behalf of the Supermax prisoners led to a 2005 U.S. Supreme Court decision that required the ODRC to use a due-process procedure in assigning inmates to OSP and in the decision to keep them there.