Foreign students become part of Mahoning Valley families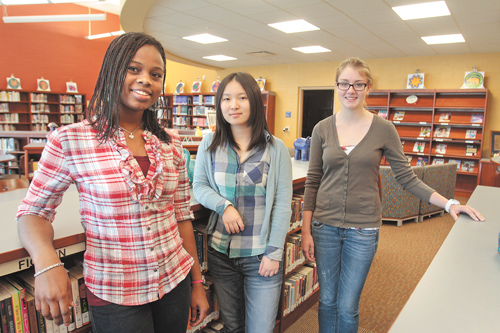 Photo
JoAnn Gernah of Nigeria, left, Yuxuan Li of China and Liane Herlitz of Germany are exchange students studying at Hubbard High School. The girls were placed by the organization Academic Year in America, which places students throughout the Youngstown area.
By Jeanne Starmack
Struthers
It's the little things that often trip up the foreign- exchange students who bravely come to spend a year studying in America.
It could be that they have to be taught how to use a fork, or they have to get used to depending on the host-family's car to take them around if there's no public transportation nearby.
With a lot of new words coming their way, they may not catch every nuance of every phrase.
A host family may spend a lot of time helping a student overcome cultural differences, said Cindy Anderson, who is a coordinator for an exchange-student organization called Academic Year in America.
That effort really pays off, though, as the students become part of their American families, she said.
"My daughter [Nadine, 23] said that when she gets married, she wants Zuza from Poland, Luda from Belarus, Annie from Germany and Jomara from Ecuador as her bridesmaids," Anderson said last week at her home on Elm Street in Struthers.
"Those are her sisters."
Anderson and her family, which also includes her husband, Wayne, and her son, Wayne II, have hosted nine exchange students since she became involved in AYA in 2003 after she saw an ad asking for host families in a church bulletin.
Their first, she said, was an easy-going 11th-grader named Ben Schoell from Germany.
"He fit right in," she said. "I literally cried for two months when he had to leave."
Now as a coordinator, she places students in homes. She's placed them throughout the Youngstown area and farther away in West Virginia, Cleveland and Pittsburgh.
The kids don't just live in those communities for a year — they get involved in them in an AYA program called the Future Leaders Exchange.
They've gone to the Statehouse in Columbus, helped Habitat for Humanity and wrapped gifts for people in need at Christmas time.
They go back to their own countries with an understanding of democracy, leadership, volunteerism, diversity and free-market enterprise.
Other students, many of them Muslims in a program called Youth Exchange and Study that was developed after the Sept. 11, 2001, attacks, learn firsthand about the United States.
She keeps in touch with her students on Facebook, and she's looking forward to the AYA annual International Dinner on Monday at the Lariccia Building in Boardman Park.
Nineteen students who are here from China, Republic of Georgia, Ukraine, India, Kazakhstan and Germany will be there, and they'll be inviting their favorite teachers.
Each student brings a dish from his or her country, and each host family brings a dish from its ethnic background as well.
Anderson's thinking that this year, she'll make Swedish pancakes.
State Sen. Joe Schiavoni, of Canfield, D-33, and state Rep. Craig Newbold, East Liverpool, R-1, are invited.
Anyone who thinks it sounds like a world of fun and would like to pursue hosting an exchange student can call Anderson at 234-855-0827.