South Side dog attack unleashes feelings of vulnerability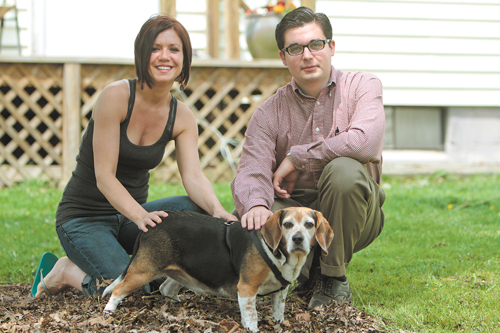 ---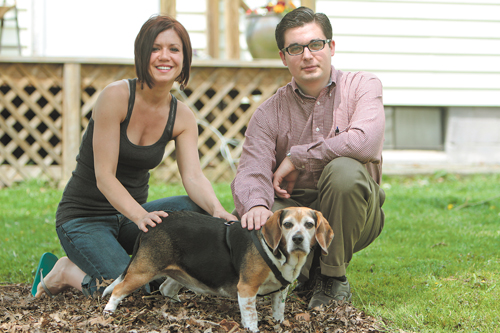 Photo
Alison Morris and her friend Nathaniel Riggle pose with Toby, one of two beagles attacked by a pit bull in Morris' yard. The attack left both with a decreased sense of security.
YOUNGSTOWN
Last Friday began as a serene spring day for Alison Morris and her close friend Nathaniel Riggle, but by the end of the day, an attack by a marauding pit bull would leave both with a decreased sense of security.
Morris wanted to put in a fence and do some yard work at her Shelby Road home Friday. She invited Riggle to join her and her two small beagles to accomplish the job.
Morris, Riggle and their two canine companions were enjoying their time working in the yard when the mood suddenly was changed by a 100-pound, brown and white pit bull terrier bent on getting at one of the beagles. The dog seemed willing to attack any human standing between it and the smaller dog.
Morris and Riggle moved closer to the house, attempting to fight off the aggressive dog. One of the beagles was bitten on the hind leg, and Morris was bitten on the arm during the attack.
"I am such a dog lover, and I have never had that feeling of defenselessness. If I had been there by myself, I would have lost my dog," said Morris.
Riggle ultimately was able to scare the pit bull off with a pair of shears he had been using in the yard. There were no serious injuries to human or canine, but the attack did cause $150 worth of medical bills for the beagle.
Riggle called 911 to report the attack and have the dog picked up, but, he said, no one showed up to the address until two hours later when a representative of the Mahoning County dog warden's office arrived. Riggle, in his car, followed the dog around the neighborhood for nearly two hours watching what he called aggressive behavior toward other people.
"My main beef with this is that it took the dog warden so long to respond. I understand that they were tied up on other calls, but an attack of this type deserves response from someone in the city," said Riggle.
Police Chief Rod Foley said he is unsure if the department was notified, but officers do respond to dog attacks when someone is in danger. The attack took place on the same afternoon that the police department was handling a homicide on the North Side.
Matt Ditchey, Mahoning County dog warden, said Friday was a particularly busy day. He said there were two agents in the field, but one was transporting dogs in another area and the other was on a call about another dog across town.
Ditchey said his office handles the entire county and often has calls come in simultaneously in different areas.
"There was no indifference or anything in this situation, but we were dealing with so many calls that came in," he said. "It's frustrating for us, too. I would like to be able to get to every call immediately as they come in, but we just don't have a very big department."
Dave Nelson, an assistant dog warden, did go to the Shelby address and look for the dog Friday and Saturday. He did not find the dog or its owner over the weekend, but has since determined who owns the dog and plans on bringing charges against the owner.
Nelson said the charges could land the owner in jail for up to six months and bring a $1,000 fine.
Morris takes comfort in knowing the issue is being addressed and that the dog should not be roaming the neighborhood freely anymore, but she took precaution immediately after the attack.
"For the first few days, I was taking some form of defense outside with me. I used to leave the dogs tied up, and now I feel like I can't do that anymore," she said. "I have a big issue with irresponsible dog owners."