---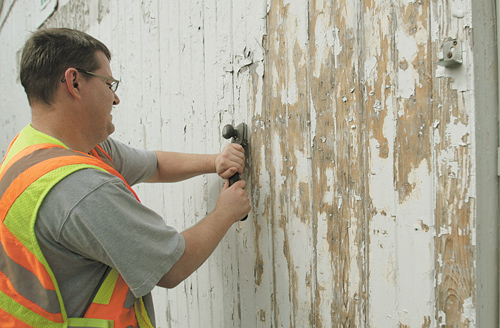 Photo
Travis Csuti , 35, of Youngstown, a participant in the day-reporting work program of the Mahoning County Sheriff 's Office, removes paint and staples from the side of a barn at the Canfield Fairgrounds. He was among five day-reporting offenders scraping and painting horse barns there Wednesday.
By PETER H. MILLIKEN
milliken@vindy.com
CANFIELD
One group of sentenced offenders isn't sitting in jail watching television on the taxpayers' dime.
This group consists of participants in the day-reporting program who perform numerous community-service projects, including collecting items for recycling, litter pickup, grass cutting, landscaping and sometimes graffiti removal.
The day-reporting workers are sentenced to the program by Mahoning County's municipal and county court judges.
"Depending upon the circumstances of the underlying offense, we do take advantage of the day-reporting program, particularly in light of the fact that we have such an overcrowded situation with the county jail," said Judge Scott Hunter of Mahoning County Area Court in Canfield.
"Unfortunately, we're placed in a predicament where we have to prioritize" and reserve costly jail beds for those who need to be incarcerated, such as the more-violent offenders, he said.
Housing inmates in the jail costs taxpayers about $80 a day per inmate.
"There's productivity ... and the community benefits," Judge Hunter said of the day-reporting program, which has operated here since April 2006 and now has 199 sentenced participants.
The community saves about $360,000 annually by keeping day-reporting offenders out of jail and having them provide free community service, sheriff's office officials said.
The day workers report each morning from their homes to the county minimum-security jail building in downtown Youngstown, which is not currently used as an overnight facility, but is used as a staging area for the work program.
From there, deputies transport them to various work sites, where they perform free labor, and back to downtown Youngstown at the end of their workday.
On Wednesday, five of the day-reporting workers were scraping and painting horse barns at the Canfield Fairgrounds under the supervision of Deputy Dave Moss.
"It's basically geared to save the tax dollars," Moss said of the program.
One of the day-reporting workers, Travis Csuti, 35, of Youngstown, was sentenced to 30 workdays in the program by Judge Hunter after he pleaded no contest to a domestic-violence charge. The judge found him guilty.
"I like the community-service aspect of it. We actually get to clean up the community," Csuti said. "It gives us the opportunity to work off our sentences instead of sitting in a jail cell and costing taxpayers more money."
For his first domestic-violence offense, Judge Hunter also sentenced Csuti to a year's probation and fined him $760, including court and day-reporting costs. Csuti said he also voluntarily attended anger-management sessions for several months.
"I'd like to utilize them at least a day or two every week, if possible," Bev Fisher, fair manager, said of the day-reporting workers.
If the fair board had to hire a painting contractor to scrape and paint the two horse barns, the cost would be about $2,000, Fisher estimated.
The day-reporting workers also pick up recyclable items, such as cardboard and bottles and cans after fairgrounds events, she added.