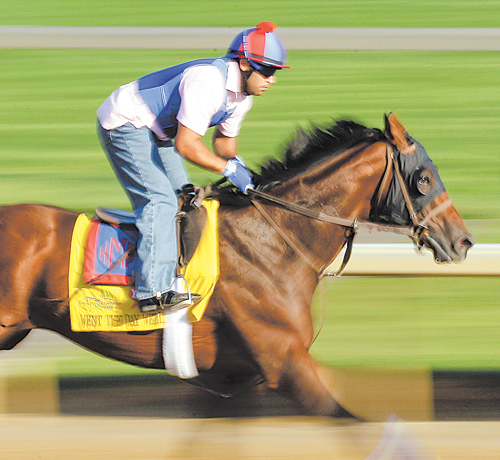 Photo
Exercise rider Zeke Castro puts Kentucky Derby entrant Went the Day Well through the paces during a workout for Wednesday at Churchill Downs in Louisville, Ky. In Wednesday's draw, it was determined that the colt, which is owned by the horse racing consortium of Team Valor of which Youngstown businessman Bruce Zoldan is a partner, will race in the 13th post position in Saturday's race.
Team Valor's Went the Day Well draws 'lucky' 13th post position
Staff/wire report
LOUISVILLE, KY.
Bodemeister was made the early 4-1 favorite for the Kentucky Derby on Wednesday, with Union Rags a close second choice at 9-2 in a full field of 20 horses.
Team Valor's Went the Day Well drew the 13th post and has odds of 20-1. Youngstown businessman Bruce Zoldan, chief executive officer of BJ Alan/Phantom Fireworks, is part owner of Went the Day Well. Zoldan's consortium owned last year's winner, Animal Kingdom.
"We're happy with the position," said Zoldan, calling it "lucky."
Trained by three-time Derby winner Bob Baffert, Bodemeister drew the No. 6 post. Six horses have won from that position, the last being Sea Hero in 1993.
Bodemeister is the stronger of Baffert's two horses, having won the Arkansas Derby by 91/2 lengths in the most dominating performance of the Derby prep races. His other, 50-1 shot Liaison, landed in the No. 20 spot for Saturday's race.
It's the third time the Hall of Fame trainer has had the early Derby favorite. The first two didn't work out.
Lookin At Lucky drew the dreaded inside post in 2010, got trapped along the rail and finished sixth. In 2001, Point Given was the heavy favorite and wound up fifth. He went on to win the Preakness and Belmont stakes, the final two legs of the Triple Crown.
"At least we're in a position where we have a good chance of winning," Baffert said. "If I got the one-hole I would be thinking they just don't want me to win this Derby. After Lookin At Lucky, when he got the one-hole, the excitement just left me because I knew he had too much to overcome."
Baffert had a heart attack on March 26 in Dubai, scaring his 7-year-old son Bode who was with him, and is the namesake of the Derby favorite.
"I just hope I have a chance to get my heart rate going turning for home," said Baffert, whose War Emblem was the last wire-to-wire Derby winner in 2002.
Union Rags drew the No. 4 post and was listed second choice on the morning line set by Churchill Downs oddsmaker Mike Battaglia.
Trainer Graham Motion got what he hoped for when Went the Day Well ended up in the 13th position.
"I'd said all along that 10-16 would be perfect," he said. "We got 13. That puts us in position to feel pretty comfortable about it with where the speed is."
Motion won last year's race with Animal Kingdom, who chased from behind after starting at No. 16. Like Animal Kingdom, Went the Day Well has shown an ability to find not only reserves but an extra gear late. Like Animal Kingdom, he'll start as a 20-1 long shot.
But Motion didn't even bother trying to map out how the race might unfold.
"I'm going to leave it up to Johnny ([elazquez]," he said, referring to the jockey who also rode Animal Kingdom. "He knows what to do. I don't have to give him any instructions." "
Wood Memorial winner Gemologist was the third choice at 6-1 and drew the No. 15 post. The undefeated colt is one of two trained by Todd Pletcher, who won his first Derby in 2010 with Super Saver. The other, El Padrino, will be in the next stall toward the outside as one of two 20-1 shots.
Since 20 horses can't fit in one starting gate, an auxiliary gate is used, creating a gap between the No. 14 and 15 posts. If all 20 horses start, the $2,219,600 purse would be the richest since 2005, when the Derby first became a guaranteed $2 million event. The winner earns $1,459,600. Post time is 6:24 p.m.
More like this from vindy.com