Bill would ban young Ohio drivers from using devices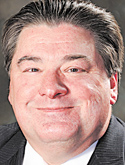 Photo
By Marc Kovac
COLUMBUS
Teens would be banned from using cellphones or any type of hand-held electronic communications device while driving, under legislation making its way through the Ohio Senate.
Under the new version of House Bill 99, 16- and 17-year-olds would be prohibited from "using any electronic wireless communication device, except in the case of emergency," said Sen. Tom Patton, a Republican from Cleveland and chairman of the Senate's Highways and Transportation Committee. "This bill specifically includes [tablets, laptop computers and other] electronic devices. ... We're banning any electronic device for those 16- and 17-year-old minors."
The committee added the prohibition Wednesday, and the bill appears to be headed for a floor vote soon. The Ohio House OK'd the legislation in June.
Amended House Bill 99 would allow adults to use GPS units, cellphones and other hand-held devices, as long as they are not being used to send text messages.
For adults, texting while driving would be a secondary offense, meaning law enforcement could not issue a citation unless they have cause to stop a driver for other violations.
For minors, using electronic communications devices while driving could result in a $150 fine and a mandatory 60-day driver's license or permit suspension for first-time offenders and a $300 fine and one-year suspension for repeat violators.
Patton said legislation is focused on stopping people from sending text messages while driving but not other activities, prompting Sen. Capri Cafaro, a Democrat from Liberty, to question whether newspaper readers would be affected.
"Does it necessarily mean reading The Youngstown Vindicator on the phone while driving, because it's not email?" she asked. "The definition of write, send or read text-based communication basically says you can't write or read or send text messages, instant messages or email. So, this behavior only applies to text messages and email but not, for example, typing in www.Vindy.com while I'm driving and then reading the newspaper."
Patton responded, "I think we're doing a texting bill. I don't think we're going a bill that is going to prohibit people from reading the newspaper."
Wednesday's committee hearing included testimony from three people whose loved ones were killed by distracted drivers, including Denise Muslovski from the Youngstown area. Her husband, David, was struck by a car while walking along a road.
Muslovski read testimony written by her attorney, Scott Cochran of Youngstown, who could not attend Wednesday's hearing.
"I think there should be legislation that makes it illegal to text and drive," she said, adding later, "If an offender chooses to voluntarily distract themselves by texting and driving and it results in serious physical harm or death, they should be treated the same as a voluntarily intoxicated person would be."