Published: Wed, May 2, 2012 @ 12:00 a.m.
By Anthony M. FUDA
Sharpsville, Pa.
When You Go...
Where:
Muscarella's Cafe Italia
500 Main St.
Sharpsville, PA 16150
Phone:
724- 962-1234
Hours:
Sun – 12:00pm – 8:00pm
M-F – 11:00am – 9:00pm
Sat – 12:00pm – 10:00pm
Menu:
3 burgers ($7.99-$8.99)
Website:
Accepts all credit cards.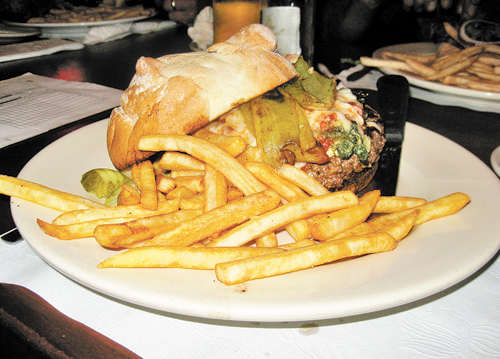 Photo
The infamous Eddie Burger.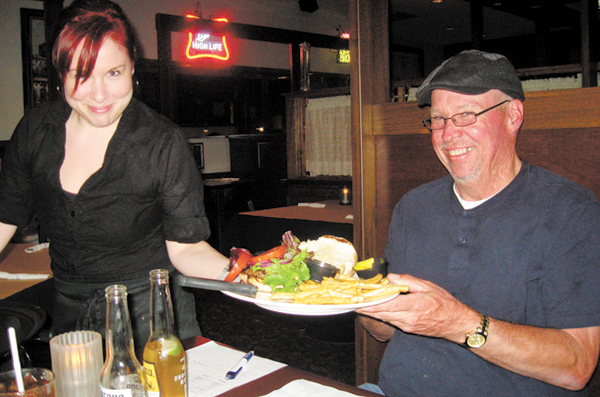 Photo
Heather Bornes hands Scott Long his burger for review.
An Italian family restaurant spanning two continents, with 100 years of experience in the food industry, gets your mouth-watering for a nice plate of pasta, and... a burger?
Yes, the Patton family has been in business since 1992, taking the Muscarella name from their great-grandfather Salvatore. He left Sicily in 1900 and started a wholesale fruit and produce business, providing the people of the Shenango Valley with the freshest foods available. His grandchildren wanted to also provide those same fresh foods in their own way, and thus, Muscarella's Cafe Italia was born.
From the outside, you think you are going to walk into a restaurant decorated with chairs enveloped in plastic, like the older Italian families used to do -- and some still do. But you walk in to a very modern bar and restaurant, but still keeping those Italian roots. The restaurant side has hardwood booths, carpeted floors and adorning the walls there are photos honoring the Muscarella family. The bar side is furnished with nice stools and a couple of booths so you can relax and watch the game. And the good thing is, you can get the food on either side.
We were guided to a spacious booth in the restaurant, where our waitress Heather Bornes was just feisty enough to make our evening very enjoyable.
The menu has a great selection of Italian foods and appetizers, but is limited to three half-pound burgers ($7.99-$8.99): a regular Hamburger (and you top it with all the "fixin's" you want), an Eddie Burger (topped with Italian greens, grilled hot peppers, Mozzarella and red sauce), and a Blue Devil Burger (hot sauce with Capicola ham and Bleu cheese crumbles). The burgers come with a side of crispy golden brown fries.
The four of us decided on three hamburgers and one Eddie Burger. We all agreed the beef was cooked well, but could have a used a little more seasoning, However, the toppings were very fresh and full of flavor, making up the difference.
A great feature of this burger is the bun. The bun was like a little loaf of fresh Italian bread. It was big, and toasted just enough to hold the burger and all the toppings in throughout the entire meal, without falling apart or even getting soggy.
Murph had a burger made with his "fixin's" and said, "It was a good-sized portion. I think the meat needed a little more seasoning, but the bun was awesome because it had that homemade feel."
Scott, our bleu cheese expert, had the hamburger, with one of his "fixin's" of choice being, of course, bleu cheese, said "It was a pretty healthy amount of blue cheese, and the toppings made this burger."
I had the Eddie Burger and thought the Italian greens with hot peppers provided a nice spicy kick to the beef, while the Mozzarella and red sauce toned down the heat just enough so anyone could enjoy this burger.
We had the pleasure of meeting one of the owners, Tom "Potsy" Patton, and he told us "the Eddie Burger was named after Eddie Alfredo, because he would always come in and ask for a burger with hot peppers and greens." Potsy added, "It has become one of our biggest sellers."
If you are heading through Sharpsville and in need of a good burger in a nice Italian family setting, stop in to Muscarella's, ask for Heather and enjoy a nice relaxing evening. If you go on a weekend, "Potsy" says to "make reservations because it gets pretty crowded."
3 stars
Give us the name of the restaurant, tavern or bar that you think flips the best burger at mvbrb@hotmail.com or leave a comment on Facebook at MVBRB.