Student T-shirt campaign supports cancer-stricken teacher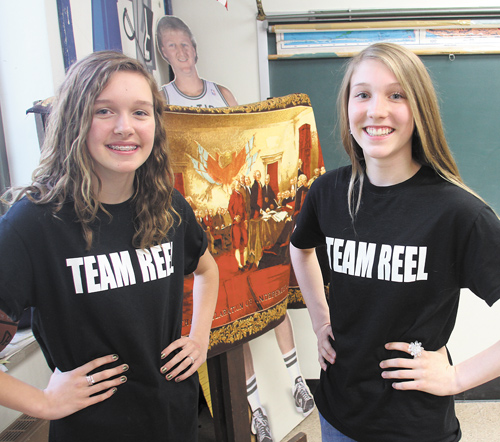 Photo
Delaney Bresnahan, left, and Emma Hartshorn, both eighth-graders at Canfield Village Middle School, created "Team Reel" T-shirts to sell in support of Ken Reel, their American History teacher who recently was diagnosed with cancer.
By Elise Franco
efranco@vindy.com
CANFIELD
A cancer diagnosis for one of Canfield's most-beloved educators is causing a stir among students, staff and community members.
Ken Reel, 65, was diagnosed in February with T-cell lymphoma, a rare form of the cancer that affects the body's T-cells. The absence of Reel, a 44-year veteran of the Canfield school district, hasn't gone unnoticed.
Delaney Bresnahan and Emma Hartshorn, both eighth-graders at Canfield Village Middle School, wanted to do something to honor Reel, and the idea came to them during a discussion about the best-selling novel and movie "The Hunger Games."
Bresnahan said they started talking about the merits of being on "Team Peeta" versus "Team Gale," when they realized they were neither. Peeta and Gale are two of the story's main characters.
"We were talking about The Hunger Games and somehow came to be talking about Mr. Reel," Hartshorn said. "Delaney had the idea that we were "Team Reel."
The girls ran with the idea and created T-shirts to sell for $10 each in honor of their American History teacher.
The black shirts bear the words "Team Reel" on the front and "Disperse ye rebels ..." on the back. The saying is from the American Revolution and a favorite of Reel's. The girls said he would shout it out to students as they walked past his classroom.
Bresnahan said they expected a handful of friends and classmates to buy the shirts and planned to donate the money to a charity of Reel's choosing, but after word spread of their endeavor they ended up with more than 400 orders for shirts.
"We did not expect the response, but we're so happy," she said. "It's amazing how it's branched out to all over Canfield."
Sabrina Eaton, a teacher at CVMS, said she joined the girls' efforts and is now working to form a Relay for Life team to walk in Reel's honor at the relay in Austintown on June 1 and 2.
Reel declined to speak directly with The Vindicator but told Eaton that he would be more than happy to see the T-shirt sale money go back to the relay and American Cancer Society.
"Mr. Reel is so humbled by all of this," she said. "He said that for students to remember him after he's been gone for a couple months, that they actually thought of him was touching."
Hartshorn and Bresnahan said they're glad the idea has evolved because Reel is the most-deserving man and teacher they know.
"He's made such an impact, and he's funny," Hartshorn said. "He makes each class exciting, and it's one reason why we want to learn from him."
Those interested in purchasing a T-shirt for $10 should contact Kristin Hartshorn at kharts@msn.com.
For more information about the Relay for Life team, contact Sabrina Eaton at seaton@canfieldschools.net.