Pavlansky adjusts to life away from track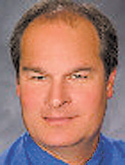 Photo
By Joe Scalzo
On April 21, around the time when Dave Pavlansky Jr. would have normally been coaching in the Mahoning County track meet, he was rediscovering something he'd forgotten existed.
"Finding out that there's a Saturday in the week is really nice," joked Pavlansky, who stepped down as the Spartans' boys track coach last summer. "You miss the kids and you miss the camaraderie. I got a text today from our sprint coach that we went 1-2 in the 100 [meter dash]. That's awesome.
"I miss seeing stuff like that."
Then there are the things he doesn't miss.
"I definitely don't miss making bus lists," he said. "I don't miss passing out uniforms. I don't miss being out in the rain.
Last August, after a 29-year coaching career that started as a high school football coach in Florida and ended as a track coach in Boardman, the Boardman High English teacher quietly accepted a new challenge.
"An opportunity came up to work with at-risks in an online curriculum after school," said Pavlansky, who still teaches at Boardman. "I cut the grass a few times and thought about it and I figured it was the right time to make a change.
"It's different but you get to the point where you realize you need to switch gears to keep the juices flowing."
Pavlansky is the oldest son of legendary Poland coach Dave Pavlansky. He coached football from 1982-1999, both at the high school and collegiate level. (He was on Jim Tressel's first staff at Youngstown State in 1986.) After two years back in Florida, he came to Boardman in 1989 and started coaching sprinters by accident.
"I was a thrower in high school — and I was a bad one," he said. "Our prior sprint coach, Jim Guterba, had just resigned to move into adminstration [so] I was the sprint coach before I knew I was even a track assistant.
"But that was one of the best things to ever happen to me. The idea that speed could be developed piqued my interest."
Pavlansky became Boardman's head boys cross country coach in 1999 and the head boys track coach in 2000. In track, he's three-peated at both the Steel Valley Conference and Federal League meets, coached two All-Americans and a bevy of All-Ohioans. In cross country, he won five straight Suburban League crowns before stepping down in 2008.
His three brothers are still coaching — Mike and Tom coach football at Canfield and Lakeview, respectively, while Pat coaches girls basketball at Canfield — and Pavlansky still works as a lead instructor for the USATF. He's also hoping to start a summer track club with Fitch sprint coach Seth Steiner.
Pavlansky credits former Boardman cross country coach Jim Fox and Spartan girls track coach Denise Gorski for his development — "They're two tremendous individuals and they've meant a lot to me, both in terms of my development in the sport and my enjoyment of it," he said — and he's drawn similar praise from his fellow coaches.
"Coach Pav had such tremendous knowledge of the sport and I miss those track talks we would have about different events and coaching techniques," said Gorski. "I learned a great deal from him."
"He's the main reason why I'm still doing this after 35 years," added Fitch track and cross country coach Rich Kempe, who is retiring in June after a 35-year career. "Dave is a great coach who's helped lead many athletes to reach their full potential. What he's done in his career is amazing and he's an even more amazing human being."