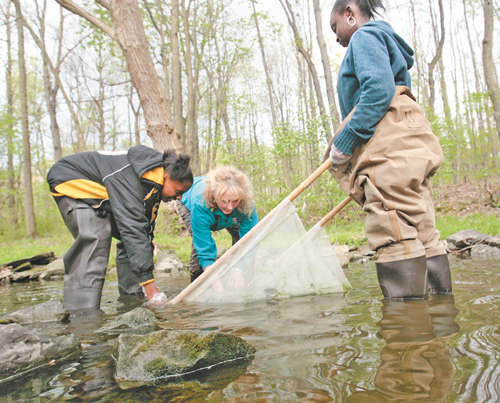 Photo
Using waders, their hands and a net, Kathleen Vrable-Bryan, center, administrator of Mahoning Soil and Water Conservation District, helps Marlana Fields, left, and Milasia Lewis, both students at Volney Rogers Middle School, collect small, bottom-dwelling organisms to test the water quality of the Ax Factory Run adjacent to the school.
YOUNGSTOWN
Seventh- graders were excited to get in the water and learn a few environmental lessons.
"This gives me a chance to do hands-on activities," said Isaiah Donley, one of the participating students from Volney Rogers Middle School.
The students participated in the sampling and testing of water quality Monday in the Ax Factory Run, a small stream that flows over a rocky bottom in a wooded ravine on the city's West Side alongside the school.
The tests showed water-quality improvement over results from previous years, said Kathleen Vrable-Bryan, administrator of the Mahoning Soil and Water Conservation District, which has tested the stream's water quality for the past six years.
The program was presented to the middle-school students "to get them excited about math and science at an early age," Vrable-Bryan said.
"I like doing the experiments," said Brian Webber, another student. Brian added that he was learning a valuable lesson concerning animal habitats.
"All of the water's not polluted," observed another student, Ke'myah Culver.
Assisting in the effort were TestAmerica, a nationally accredited environmental testing lab, General Motors, Youngstown State University and the Mahoning SWCD.
TestAmerica, which sent six of its staff members in a mobile testing lab, donated its services for the event. The North Canton-based testing company performs environmental tests for the GM Lordstown Complex.
"It hits our academic content standards about the diversity of the animals," said Nora McDevitt, a science teacher at Volney.
"We want them to learn to enjoy the outdoors. ... We want them to know about careers in science," and about responsible environmental stewardship, she added.
"We're hoping that the kids get an understanding of practical science careers," said David Lanzola, TestAmerica's General Motors national account manager.
"It's a good way to expose students to both their impact on the local environment and also the importance of science and math in their daily lives and in jobs that are out there," Gerald King, an environmental engineer at GM Lordstown, said of the exercise.
Wearing boots and waders, students stood in the water and used nets to collect tiny bottom-dwelling organisms, known as macroinvertebrates, from the stream, finding many that were intolerant or moderately intolerant of water pollution and indicative of good to excellent water quality, Vrable-Bryan said.
She cited a baby salamander, riffle beetles, a Dobsonfly larva and numerous stonefly and mayfly nymphs found in the stream Monday as examples of organisms that are pollution intolerant, and a crayfish and a cranefly larva, which also were found there, as examples of those that are moderately intolerant.
"They're really good indicators of water quality," she said of these organisms.
Other tests found nitrates, which come from lawn fertilizers, at zero, together with very little suspended sediment in the water, which gave the stream an excellent rating in those two categories, King said. "Overall, we found that the water quality is pretty good down here," King said.
"The trees and all of the vegetation along the streambank act as filters" that keep pollutants out of the stream, Vrable-Bryan observed.
Concerning another indicator, however, the stream got a poor rating because of its low level of dissolved oxygen, dissolved oxygen being necessary for aquatic life to thrive.
King attributed the shortage of dissolved oxygen to the lack of aeration of the water due to the sluggish stream flow stemming from the recent lack of substantial rainfall.
The Ax Factory Run, which once had an ax factory alongside it, originates in Austintown, and flows through residential neighborhoods in Austintown and Youngstown before emptying into Mill Creek Park's Lake Cohasset.
Holly Burnett-Hanley, coordinator of the Mahoning River Education Project at YSU, said she hoped the students would learn "a lot of science" from the exercise and an understanding that "water is precious."