Neumeister masters Struthers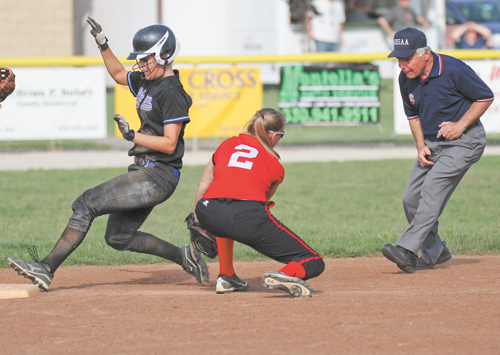 Photo
Lakeview's Alyssa Nicholas is tagged out at second base by Ashley Hefferon of Struthers during Monday's game. Lakeview won the non-league game 6-2.
By Tom Williams
STRUTHERS
Monday's summer-like temperatures had Lakeview High softball pitcher Alexis Neumeister in her comfort zone.
"This was the first hot one, actually broke out in sweat," said Neumeister, who struck out the first six batters she faced in a 6-2 victory over Struthers. "They eventually caught on to what I was throwing."
Struthers (12-10) scored twice in the bottom of the seventh inning.
"She was very comfortable with what she was throwing," Lakeview catcher Alyssa Nicholas said of Neumeister (10-1). "She was very confident, her drop-curve was working very well and also her riseball."
Neumeister allowed six hits, struck out 14 and walked none.
A perfect game was broken up by Celeste Cavanaugh's lead-off double in the fourth inning. Neumeister retired the next three batters on a pop-up, strikeout and groundout to escape.
"When she was up in the count, she hit her spots," Struthers coach Bob Zanni said. "We just dug ourselves a hole too early and struck out too many times."
Hannah Petrosky tripled then scored on Nicholas' single up the middle for a 1-0 lead in the first inning.
Shelby Rog tripled to open the second inning then scored Lakeview's second run on a throwing error.
In the fifth inning, Nicholas hit a two-run homer to center field for a 4-0 lead.
The Wildcats, who had just nine players in the lineup because of illness, started Hannah Dubec (1-2) on the mound instead of Rachel Affagato. The Wildcats and Bulldogs could meet again when tournament play begins next week.
"The pitch that I love is right down the middle so I jumped on that pitch," said Nicholas, who added that she knew it was a homer as soon as it left her bat. "It's just the best sensation — you just smile."
Nicholas and Neumeister scored runs in the seventh inning and Caitlin McDivitt contributed a double.
For the Wildcats, Dubec hit a RBI double then scored on Tina Ford's hit.
"Those nine had a lot of grit, a lot of fight," Zanni said.
Lakeview, which was limited to one substitute player because of illness, has the third seed in the Alliance district tournament and will play the winner of the Struthers-Cardinal Mooney game.
"Last year, we had no seniors so to have five and be where we are, I am very happy," Lakeview coach Carl Eaton said.
Lakeview will tune-up for the tournament with an All-American Conference game against Champion on Saturday.
"With [Lindsay] Swipas on the mound, it's a good warm-up for tournament," Eaton said. "It's good softball, it's as good as it gets."