Judge Douglas announces retirement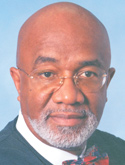 Photo
YOUNGSTOWN
Robert A. Douglas Jr., a Youngstown Municipal Court judge since November 1997, is retiring Aug. 1.
When asked why he's leaving before his term expires Dec. 31, 2013, Judge Douglas, 72, said, "I'm ready. I've been thinking about this for quite a while."
Because of state law dealing with the age of judges, Douglas couldn't seek re-election next year.
The judge said he has no plans to practice law but is willing to serve as a visiting judge during his retirement.
Judge Douglas spent close to 50 years in the public sector, starting as a social worker in the late 1960s.
He also ran the Trumbull County Welfare Department and the Mahoning County Department of Human Services and worked for the Youngstown Community Development Agency, former U.S. Rep. James A. Traficant Jr., and as an assistant Trumbull County prosecutor.
In November 1997, then-Gov. George V. Voinovich, a Republican, appointed Douglas, a Democrat, to fill the unexpired term of Youngstown Municipal Court Judge Luke Levy.
He was the first black to serve on the bench since Lloyd R. Haynes, who retired in 1989. Douglas currently is the only black judge in any court in the Mahoning Valley.
As to what he'll miss the most when he retires, Judge Douglas said, "The people. I really enjoy the people. I really enjoy the job."
The judge said he hopes to be remembered for his "strong leadership." He said he was appointed at a time when the municipal court "was in shambles."
At the time, Levy had retired because of health reasons, and then-Judge Patrick Kerrigan was on paid leave after being indicted.
During his time as judge, Douglas said he is proud of the changes he implemented, including a pre-trial system, video arraignments, hiring the court's first administrator, better structuring the probation department and better organizing the court docket.
One thing he was unable to do is settle a long-standing dispute between the judges and the city administration on a new court facility. The matter is pending before the Ohio Supreme Court.
Elizabeth A. Kobly, the court's administrative and presiding judge, said she will miss Judge Douglas.
"He was great to work with," she said. "We had a fabulous relationship in contrast to our predecessors, who couldn't even meet. We got along extremely well."
Mayor Charles Sammarone said Douglas worked hard and "has earned the right to retire. I wish him all the luck in the world."
Former Mayor Jay Williams, who resigned in August 2011 to take a job in President Barack Obama's administration, said: "Dapper and distinguished, two of many words that come to mind when it comes to Judge Robert Douglas. Judge Douglas has served the Youngstown community with the utmost distinction and integrity."
Williams said Judge Douglas, who administered his oath of office after the 2007 general election, "has established an enduring legacy that should inspire us all."
Under state law, Gov. John Kasich, a Republican, will appoint a judge to finish out Judge Douglas' unexpired term. Kasich will ask the Mahoning County Republican Party to recommend three candidates to replace Judge Douglas, said Rob Nichols, the governor's spokesman.
The governor's office will vet the candidates and make a decision, Nichols said.
It's unknown how long that process will take, he said. "Rather than rush to get someone on the bench, we'll wait for the right person," Nichols said.
County Republican Chairman Mark Munroe said the "political realities" are that there are only a few lawyers who live in Youngstown who'd be interested in the job.
"Clearly, the objective is to find the best-qualified person," he said. "Judge Douglas' service to the city has been outstanding."
Though there's been talk of court consolidation, including eliminating a Youngstown Municipal Court judge, both Douglas and Kobly said the discussion is preliminary, and it's premature to not fill the upcoming vacancy.