KO Drugs Boxing tourney awards 26 belts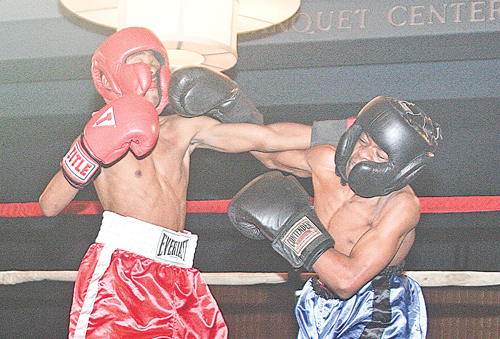 Photo
Terrance Holloway (red) from Farrell and Jamir Fudge of Warren Harding battle during their flyweight battle Monday night in the finals of the K.O. Drugs High School boxing tournament. Holloway won the championship with an unanimous decision in the event at St. Lucy Palermo Banquet Center in Campbell.
By Greg Gulas
CAMPBELL
In the afternoon, Canfield High's Anthony Ross caught seven innings, helping his baseball team to a 7-5 victory over Austintown Fitch.
Then at night, in the finals of the K.O. Drugs H.S. Boxing Tournament, Ross claimed the upperclass junior welterweight belt when he scored a split decision over David Blue of East Palestine.
Admittedly losing steam in the third round, Ross (3-0) never lost his focus as he finished undefeated in his first sanctioned boxing tournament at St. Lucy's Palermo Banquet Center.
"He [Blue] was a tough opponent and it seemed like we just kept pushing each other around in the ring. Anytime you win a competition it's a special feeling, but winning a belt is even more special," Ross said.
Eleven upperclass champions were crowned with 14 underclass and one female division boxer also earning title belts.
Josh Mango (2-1) of Niles won the junior middleweight belt when he scored a second-round TKO over Brookfield's Zach Hollobaugh.
"For the last three months I've used my football training to get ready for the tournament," said Mango. "I also trained with Rick Palmer in his garage and we worked on my speed. The power then seemed to come after that."
Junior Kayla Burnside of Struthers became a three-time champion when she scored a unanimous decision over Mikayla Bloodsaw of Keystone.
"My right hook is what I relied on tonight, but when she hit me after the bell rang I took offense to that and just came out more determined in the second round," said Burnside. "This win motivates me to come back again next year to becoming a four-time champion."
In underclass action, Campbell's Tyler Banks (2-0) scored a second round TKO over Nathan Johnson of Warren Harding to win the bantamweight title, while Boardman's Jared Vanasdale (3-0) earned the super featherweight belt when he scored a unanimous decision over Tyler Wyant of Columbiana.
"Fighting on my home turf was a big motivation because I didn't want to let my friends down," said Banks.
Champion's John Prebonick (3-0) became a lightweight champion when he scored a first-round TKO over Jake Bunch of Reynolds, while Angel Sau-Rojas (3-1) of P. Ross Berry earned the middleweight belt when he scored a split decision over Demitryus Martinez of Struthers.
It was a rematch of their opening-week pairing, which Martinez won by unanimous decision.
"Two weeks ago I picked up a trainer, Shaun Garretson, who has MMA experience. Tonight I just wanted to show everyone what someone from a small town can accomplish when he just prepares," Prebonick said.
Most Promising Fighter awards went to Davonte Gist of Beaver Local in the underclass division, Conner Hoelzel in the upperclass division and Burnside in the female class.