Ruling drains 25 jobs from Patriot Water
By Karl Henkel
Patriot vs. Ohio EPA Motion to Dismiss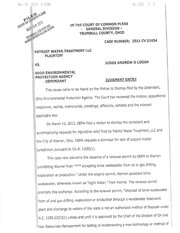 Document
Motion to Dismiss Documentation filed by the Ohio EPA in the case of Patriot Water Treatment LLC vs. the Ohio Environmental Protection Agency.
WARREN
Andrew Blocksom says next week he will give two-week notices to his 25 employees at Patriot Water Treatment LLC.
Blocksom, president of Patriot, the brine wastewater-treatment plant on Sferra Drive, said he has no other option after Judge Andrew Logan of Trumbull County Common Pleas Court decided Friday to grant the Ohio Environmental Protection Agency's request for dismissal in itson case against Patriot.
In the judgment entry, Judge Logan said that OEPA's motion to dismiss for "lack of subject matter jurisdiction" was "well taken" because he said the state's Environmental Review Appeals Commission has the sole authority to determine OEPA permit snafus.
Blocksom said he was disappointed in Judge Logan's decision, which he hoped would stave off a Sunday enforcement date of new permits that would effectively render Patriot's facilities useless.
"It's unfortunate that the company is going to be damaged and employees are going to be affected," he said Friday. "Real people's lives are at stake."
Blocksom said all is not lost for Patriot, which will go in front of the ERAC on April 23 in an attempt to solidify its permits and remain open.
For now, Blocksom said he will keep the employees busy for two weeks maintaining and cleaning the facility, despite the inability to send fracking wastewater to Warren's wastewater-treatment plant.
Judge Logan's decision Friday is the second legal blow to the brine wastewater-treatment plant this week.
Patriot had asked for an injunction hearing to stave off OEPA's recent permit renewal for the city of Warren, which prevents the city from accepting treated fracking wastewater.
ERAC earlier this week denied Patriot's request for a stay, which would have put off implementation of OEPA's restrictive permit.
Blocksom said Patriot's situation has become less about his company and more about the business climate in Ohio.
Since ERAC has ruled permits regarding Patriot were issued lawfully, Blocksom said OEPA has changed the rules without reason.
"This sets a horrible precedent of 'who's next?'" he said.
Blocksom, who could still operate Patriot as an industrial-waste facility, said that option goes against his original business model.
"For somebody to come and tell us we have the joy of doing something else at our expense. ... It's offensive."