Williams and Pavlik face big weekend fights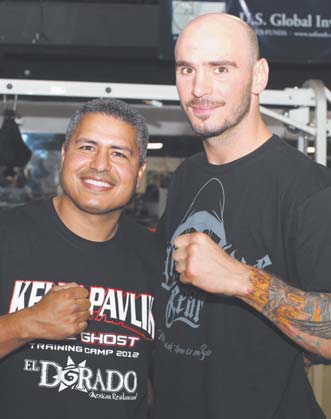 Photo
Youngstown's Kelly Pavlik, right, poses with trainer Robert Garcia at Thursday's media day in San Antonio. Pavlik will fight Aaron Jaco in a 10-round super middleweight bout on Saturday.
By Joe Scalzo
Nearly seven years after his first professional fight, "Dangerous" Dannie Williams is on the brink of the big time.
Nearly two years after he lost his middleweight titles, Kelly "The Ghost" Pavlik is hoping to get back to the brink.
Both have a chance to take a step forward this weekend.
Williams (21-1, 17 KOs), a St. Louis native who now lives in Boardman, will fight NABF lightweight champion "Hammerin'" Hank Lundy (21-1-1, 11 KOs) in a 10-round bout tonight in Connecticut on ESPN2's "Friday Night Fights."
"I've never felt this ready in my life," said Williams, who trains at the Southside Boxing Club. "When the TV and the cameras go on, I know I've got to perform."
Williams, who will make a career-best $15,000 for the fight, enters the fight ranked No. 9 in the world by the WBC. (Lundy is fourth.) A win would likely catapult Williams into the top five.
"Dannie needs to pressure this kid and not let Lundy take control of the fight," said Williams' trainer, Jack Loew. "Lundy is a very slick boxer and when you can control the dance like Lundy likes to — and everybody they've put in front of him, he's been able to — he can perform. But going backward, he can't, so Dannie has to control the fight."
Pavlik (37-2, 32 KOs), meanwhile, will fight for the first time in nearly a year when he faces Aaron Jaco (15-2, 5 KOs) Saturday in a 10-round super middleweight bout in San Antonio. Pavlik's bout will be televised on Azteca America.
Since losing his middleweight belts to Sergio Martinez in May of 2010, Pavlik has fought just once — a 10-round majority decision victory over Alfonso Lopez.
Jaco has fought just once in the past five years — a first-round knockout win over Brian Bernard in November — so Saturday's bout is expected to be little more than a tune-up for Pavlik. If he wins, Pavlik then expects to fight in early June and September.
"I've got to just completely dominate every minute of every round and each fight just keep doing that," Pavlik said. "This fight and the June fight, I've got to be very impressive."