Macejko fired Ally without mayor's consent
---
Macejko Deposition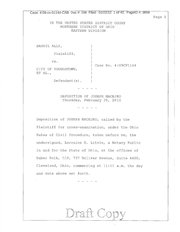 Document
Deposition of Joseph Macejko in the case of Bassil Ally vs. the City of Youngstown.
YOUNGSTOWN
City Prosecutor Jay Macejko never discussed disciplining or firing his assistant prosecutor, Bassil Ally, with then-Mayor Jay Williams before Macejko fired Ally, he said in a deposition released Thursday.
Macejko also said in the deposition that he told Mahoning County Prosecutor Paul Gains after that date that Gains should hire Ally as an assistant county prosecutor.
The deposition was among many documents in Ally's federal religious- discrimination lawsuit against Macejko and the city, which were unsealed Thursday as ordered by U.S. District Court Judge Christopher A. Boyko in Cleveland.
The judge found that Ally had suffered illegal religious discrimination and retaliation because of his Muslim faith while employed by the city.
The city settled that lawsuit last fall by giving Ally a $110,000 lump-sum settlement and a $4,000 annual pay increase.
Macejko told Ally he was fired Jan. 11, 2008, after Ally went to the mosque service he regularly attended on that Friday afternoon instead of an office meeting Macejko had called for that time.
After Ally returned, Macejko told him he was fired, but Mayor Jay Williams put Ally on paid administrative leave before reinstating him to his job.
After his return to work, Ally complained he was assigned to a court that regularly met Friday afternoons.
"I talked to Paul [Gains] after I learned that Bassil had interviewed for a position at the Mahoning County Prosecutor's office. ... I said 'You should hire him,'" Macejko said.
Macejko said he never made any negative remarks to Gains about Ally during his discussion with Gains about the possibility that Ally might join Gains' staff.
Ally's lawsuit became a major issue in Macejko's unsuccessful attempt in this year's Democratic primary to unseat Gains. He lost by 561 votes.
Disparaging remarks about Ally and President Barack Obama, which appeared in a text-message exchange between Macejko and Bret Hartup, another assistant city prosecutor, went public and loomed large in the campaign.
They were authenticated in court records unsealed Thursday. Macejko admitted sending the disparaging messages about Ally, but denied writing or sending the one about Obama and suggested it was spam.
"You're one of my best workers in the courtroom. It's these office issues that we seem to have a problem with," Macejko told Ally in a conversation Ally secretly recorded.
The transcript was included among the thousands of pages of documents released Thursday.
"I don't know what the office issues are that are problems," Ally replied.
"It goes to back here. The office issues are I needed to have a meeting, and you refused to come. The office issues are discovery. The office issues are working with others. You sit back there still in your closed office," Macejko said.
Macejko maintained his telling Ally he was fired stemmed from Ally's insubordination, not from religious discrimination.
"It was the constant tardiness, the issue of whereabouts. It was the disregarding of my direct orders on how to handle cases. It was the culmination of all those things, and that moment of insubordination provided the tipping point," Macejko said.
Macejko and the city weren't the only ones Ally accused of discriminating against him. Ally said he believes the county discriminated against him.
When he applied for a job in Gains' office, Ally said he was interviewed and offered a job in May 2008 by three assistant county prosecutors, Robert E. Bush Jr., then head of Gains' criminal division; Linette Stratford, head of Gains' civil division; and Dionne Almasy, an assistant county prosecutor, who was formerly city prosecutor.
"They expressed to me that they would make sure that I got to attend all my Friday services... They basically told me they'd put me at the higher end of the (pay) range," Ally said in his deposition.
A day or two later, Gains changed the offer to "the lower end of the pay scale," Ally said. "He also told me that, if I wanted to attend my service, I had to do it after work hours," Ally said, adding that he then refused the job offer.
"He brought up the fact that he had a conversation with his friend, Jay Macejko, and apparently, I had offended Jay Macejko, who expressed that to Mr. Gains, and I wasn't supposed to do that to his friend and disrespect him — his friend. So, he essentially changed the offer," Ally said.
Macejko formerly was an assistant county prosecutor under Gains.
"There is no discrimination on my end," Gains said, noting that Ally filed no formal discrimination charge against the county. "He never sued me," Gains observed.
Gains said he told Ally that he could go to the mosque on Friday afternoons if he wasn't required to be in court at that time.
Gains said he considers his budgetary constraints in hiring and typically hires new assistant county prosecutors at the lower end of his pay scale and later gives them raises if their performance justifies them.
Macejko and Ally could not be reached to comment.