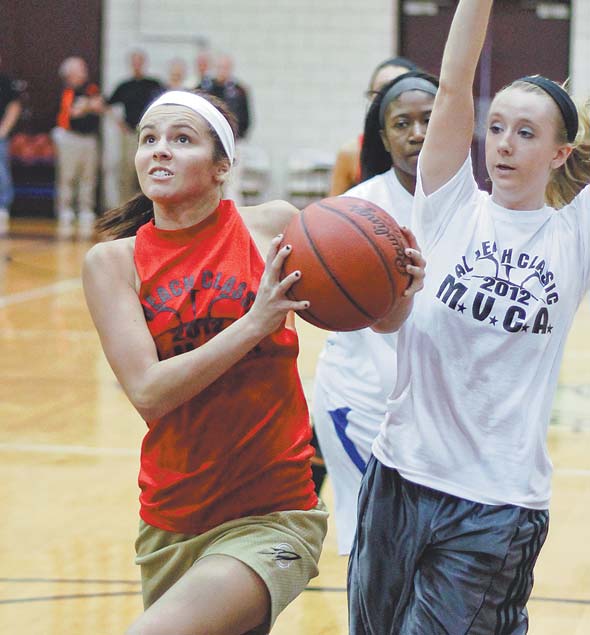 ---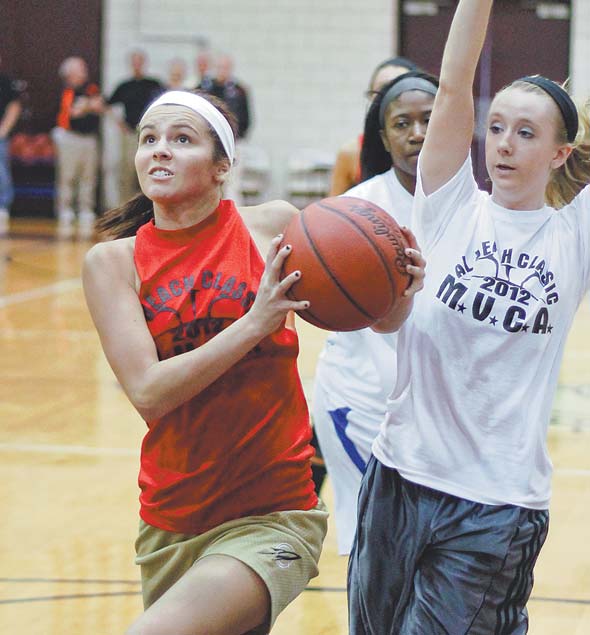 Photo
Lowellville's Ashley Moore, playing for the Red Team, drives to the hoop after getting past the White Team's Rachel Ellis of Newton Falls during the Al Beach Classic on Wednesday at Boardman High School. Red defeated White, 54-49, in overtime, with Moore named the game's Most Valuable Player.
Hardin, Moore lead all-stars to victory
By Tom Williams
Boardman
After an ultracompetitive first half that featured 125 points, Warren Harding teammates Jesse Hardin and Rashid Gaston took charge of Wednesday's all-star boys basketball game at Boardman High.
Hardin, after finishing runner-up to Poland's Colin Reardon in the dunk contest at halftime, scored 14 of his 20 points in the second half to lead the Trumbull County-flavored Team White to a 124-101 victory over Mahoning's Team Red in the Al Beach Classic.
"It's a lot of fun to be able to play with all the people you know from the area from watching TV," said Hardin who was selected Most Valuable Player. "Just getting together for one last time for your senior season was a fun time."
It was especially fun during the girls game to see Lowellville's trio of Ashley Moore, Taylor Hvisdak and Emily Carlson rally their Team Red from a double-digit deficit early in the second half to a 54-49 victory in overtime.
"At first, we were just trying to have fun," said Moore who was selected MVP. "I know we're not used to coming back, we just gave it our all."
With 75 seconds remaining in regulation, Moore scored from underneath to cut White's lead to 48-46. With five seconds to go, Ursuline's Courtney Powell scored to force overtime.
Moore said she and her teammates found it a luxury to be playing with a tall, gifted player like Powell.
"It felt like a completely different game," Moore said. "The three of us usually are going down there scrapping for the ball. Courtney [sometimes] doesn't even need to jump for the ball — it was a lot different."
Moore scored on a drive to the basket and made a free throw for the winning points, Powell added a basket to ice the game.
McCurdy led White with 11 points. Southington's Rebecca Wolke had nine and Badger's Sarah Bonar seven.
Poland's Nick Blanch and Jim Stickel coached Red. Harding's P.J. Notar and Frank Caputo led White.
"They honored me tonight because this was my swan song," said Notar who is stepping down after his second stint with Harding. "It was nice to get to coach girls you went against — I really appreciate this opportunity.
Notar compiled a 180-105 record and said the Warren School Board will replace him after they select the successor to boys coach Steve Arnold.
In the boys game, Gaston led all players with 26 points. Liberty's Jalen Mann contributed 23.
"We wanted to win by 35, but a win's a win," Hardin said.
Also scoring in double figures for the winners were Badger's Kenny Bolyard and LaBrae's Matt Szorady with 10 each.
Lowellville's Dean Donatelli led Red with 11 points while Struthers' Jake Jacubec and Boardman's Dayne Hammond each had 10.
South Range's Brandon Pluchinsky sank 14 to win the boys 3-point contest. Fitch's Megan Sefcik won the girls contest with 12.