In celebration of English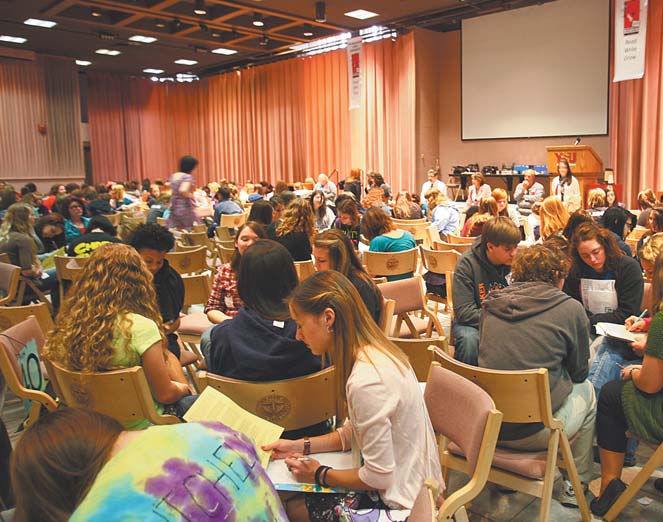 Photo
Students from throughout the Mahoning Valley and western Pennsylvania participate in the Youngstown State University English Festival's writing game. Groups of four or five students had to write a parody of one of the seven books they read for the 34th annual festival.
By Denise Dick
Youngstown
About 3,000 high-school and middle-school students from the Mahoning Valley and western Pennsylvania each read seven books in preparation for the Youngstown State University English Festival.
"We call it a celebration of reading and writing," said Gary Salvner, chairman of YSU's English department and one of the creators of the festival. "We don't call it an educational program, although it is. We don't call it a workshop, although it is. What it really is is a celebration."
This marks the 34th festival, and it runs through Friday with a new crop of about 1,000 students participating each day.
Although it's a celebration, the festival was borne out of tragedy.
A daughter of Thomas and Carol Gay, two former YSU professors, died of cancer. "They wanted to honor her," Salvner said. "She always loved to write."
It started as an essay contest and attracted about 500 students the first year. It's grown every year and expanded to include author lectures, writing games, impromptu writing, journalism and poetry workshops.
Laurie Halse Anderson, author of three of the books on the two lists, is a featured author this year.
A festival committee selects seven young-adult books for seventh- through ninth-graders and seven for 10th through 12th grades. Sometimes the two lists share a few selections.
This year's list includes a work by Rebecca Barnhouse, YSU English professor, "The Coming of the Dragon."
Salvner said the only criteria for the selections is they must be young adult, not part of the school curriculum and be of high quality.
Works may be historical fiction, general fiction, fantasy or other genre.
Invitations are sent to all schools, limiting each to 30 participants. Teachers then contact students who may be interested. Those students must read the seven books on the list before the festival.
"The teachers do a lot of work with this," he said. "The teachers we work with really go above and beyond. It's really a labor or love for them."
A part of the festival asked participants to create a piece of art inspired by one of the books. Another asks students to compose a piece of music inspired by a book.
The music session is in honor of Salvner's late son Jeremy who died a few years ago. Jeremy was a music lover.
While Salvner plans to retire July 1 after 35 years at YSU and 14 years as English chairman, he'll still teach some classes and help with the festival.
This marks the second festival for Amber Harris, 18, a Chaney Visual and Performing Arts senior, and the fourth for Drucella Garcia, 16, a Chaney VPA and Science, Technology, Engineering and Math student.
Both say they love to read and enjoyed the books.
Amber pointed to Halse Anderson's "Speak" as her favorite from the list.
"It's about a girl who gets raped and she doesn't tell anyone," she said. "It's sad, but in the end she fights back and gets justice."
Drucella, who is a junior, listed "My Most Excellent Year," by Mary Pearson as her favorite. It tells the story of three best friends who enter an essay contest, writing about a year in their lives.
Amber, who plans to attend YSU next year, wants to return to the next festival as a mentor. Drucella plans to return for her fifth festival.
"I read all of the books when I was in seventh grade, but I didn't know about the festival," she said. "I learned about the festival when I was in eighth grade."
More like this from vindy.com