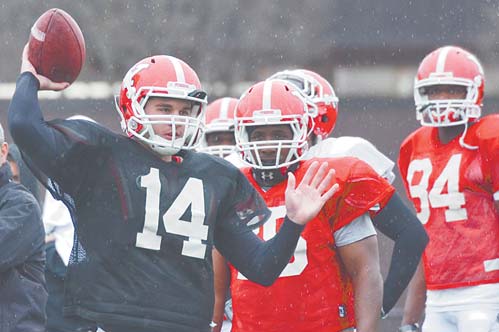 Photo
With Kurt Hess firmly entrenched as the starter and Marc Kanetsky graduated, Pat Angle (14) has the early edge on redshirt freshman Dante Nania for the job as backup quarterback for the Youngstown State Penguins come fall.
With junior Kurt Hess entrenched as YSU's starting QB, sophomore Pat Angle is trying to clinch the backup spot
By Joe Scalzo
YOUNGSTOWN
Late in Wednesday's practice, Youngstown State backup quarterback Pat Angle dropped back to pass, got good protection and unleashed a perfectly thrown ball into the waiting arms of wideout Christian Bryan, who had a step on his defender as he crossed the goal line.
It was a brief glimpse of the potential of a player YSU fans have seen very briefly over the past two years.
Angle (6-foot-1, 220 pounds), a redshirt sophomore from Logan, Ohio, appeared in two games last fall, handing the ball off in the second half of blowout wins over Valparaiso and Western Illinois.
With junior Kurt Hess firmly entrenched as the starter, Angle has the early edge on redshirt freshman Dante Nania for the backup job that Marc Kanetsky held the past two years.
"I think he's taken a step up," offensive coordinator Shane Montgomery said of Angle. "He's been in the program two years now and he really has a good grasp of what we're trying to do.
"The biggest thing is, he's got a lot of physical talent. I'm not sure he doesn't have the strongest arm of all of them."
Angle might also run better than Hess — although Nania is clearly the best runner of the three — but both lag behind Hess in their understanding of the playbook and opposing coverages. That's why, during Saturday's first scrimmage, Angle and Nania will get more reps than usual.
"For any backup, we've got to feel comfortable with you going into the game," Montgomery said. "I tell the guys all the time, just because you're No. 2 on paper, if we don't feel comfortable with you and somebody goes down, we're going to move who we feel comfortable with in there.
"I've got to feel good when he's in the ball game and I do right now."
Angle said his biggest emphasis this spring is on the mental side of the position, learning reads and defenses so he can make sure he makes the right throws.
"Last year I was a little bit jittery and I was missing a lot of throws," he said. "I'm pretty comfortable right now.
"I've got to make sure I do what I can to help the team. If it's to push Kurt so we get the best out of him every day, so be it."
Nania impressed the coaches as the scout team quarterback last fall but now he must learn YSU's playbook ("When you're on scout team, you forget everything we taught you for those three weeks and he's relearning everything," Montgomery said) while also deciphering new defensive coordinator Joe Tresey's schemes.
"I think [Tresey] has shown us everything you can possibly see in the past five [practices]," Montgomery said. "Dante is trying to learn the offense and the defenses and when you've got 11 guys coming from anywhere, it's a lot to learn.
"The biggest thing with him is confidence. When he knows what he's doing, he's a pretty good quarterback."
Bottom line? The backups need to act like they're starters.
"One play in a ball game and a guy's out for the year," Montgomery said. "If you haven't worked in the classroom to be a starter, you're not going to be ready."