Yankee Lake Wine Co. Quality juice results as fruits of their labor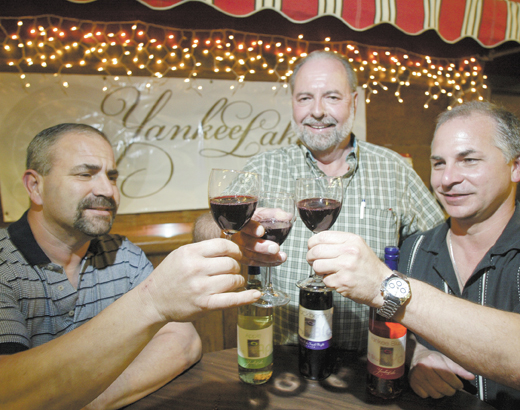 ---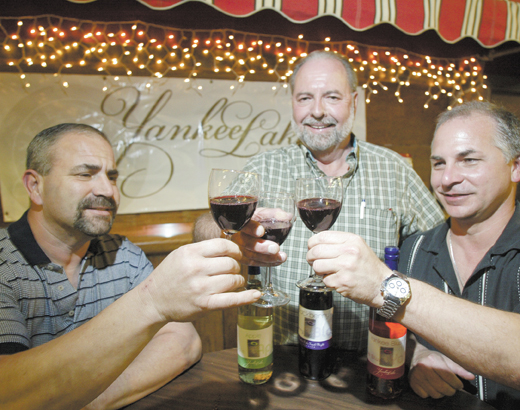 Photo
Partners Dr. Mark Elisco, left, John A. Jurko and Mark Masters sample a variety of Yankee Lake wine.
By Brian Fry
This valley is blessed with a lot of strong connections to European cultural and family traditions. Making homemade wine is one such tradition, particularly in our Italian-Amercian community.
A new company was launched recently with the goal of helping our area's amateur winemakers produce a higher quality and more consistent house wine for home enjoyment.
More information
Yankee Lake Wine Co. is a new company that supplies juice and supplies to makers of homemade wine throughout the region
Contact Person: Mark Masters, marketing director, 330-448-8361
Website: www.yankeelakewinecompany.com
Address: Operations based at the Yankee Lake complex on Route 7 in Brookfield
The Yankee Lake Wine Co. recently held its first home-winemaking seminar. Over 20 local winemakers attended the educational event, and many purchased a new winemaking kit that helps make the homemade wine-making process easier and improves the quality of the wine produced.
There were also numerous wines offered for tasting that were made with Yankee Lake's juice.
The juice is the base that most homemade-wine makers start with. It is purchased in bulk amounts, and often it is unclear where the grapes that produce the juice were grown.
"This can be very problematic for winemakers," said Joe Holabaugh, one of the partners in the new venture. "If you can't verify the exact source of your juice you could be getting anything, and people often do. We can tell you where it came from, who grew it and what happened in the vineyards that year."
Holabaugh has a lot of experience in making wine, including serving as head winemaker at local winery Luva Bella. He recently moved to Columbus and began a new venture consulting with wineries around the state and many home-winemaking groups that utilize his skills and experience to improve their wine.
"The great thing about this company is that it all started with a bunch of friends who wanted to make better wine," said Mark Masters, an enthusiastic partner who handles the marketing role. "Once we started really looking at the source of our juice, we were shocked. Sometimes the answers on the source were vague, and sometimes they were at best unclear. We decided to do something."
Using Holabaugh's connections to growers around the country and world, the company has built an impressive catalog of juices, including verifiable vineyard source information.
The catalog offers the typical inexpensive varietal juices, but also includes some impressive sources. Most notably, the juice from legendary Napa Valley vineyard owner Andy Beckstoffer is available at a premium price for those who want to make something special at home.
"You don't need to spend a lot more to get a much higher quality, sourced juice for your homemade wine," Masters said. "There were two wines I tasted that struck me as being very high quality in the group. The Burgundain-style chardonnay offered surprising orchard fruit flavors. The Old Vine Zinfandel had great cherry flavor and a peppery finish. Considering the wines tasted were only about one-third of the way through the aging process, they were of substantial quality."
Holabaugh is excited about how these young wines taste at this point. "We think the juice is the difference in these wines. When quality goes in, quality wines can be produced at home," he said.