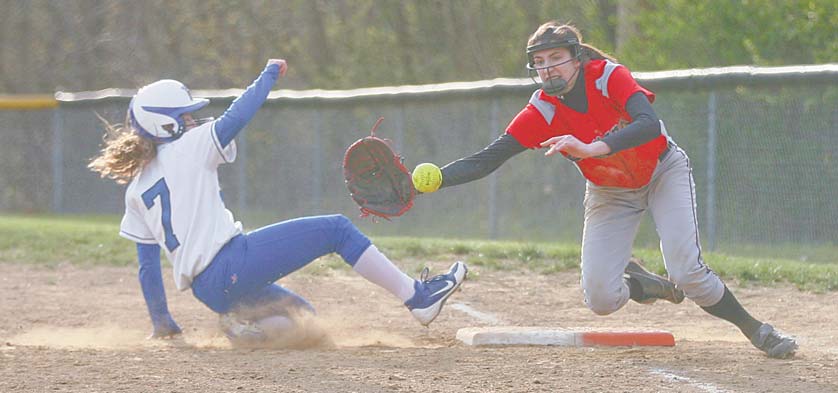 ---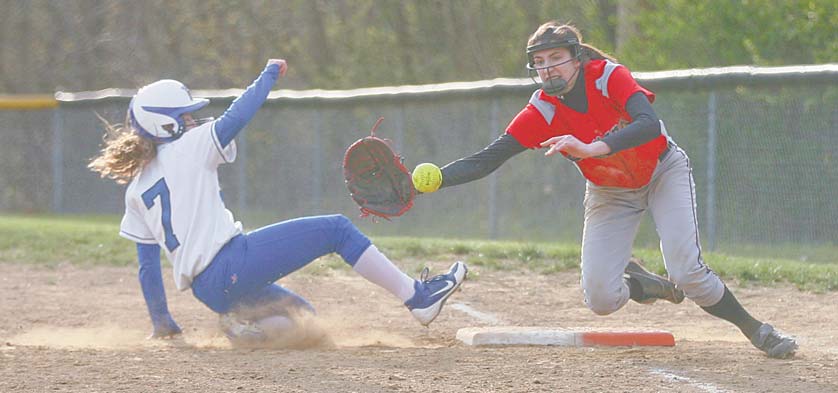 Photo
Poland's Amanda Kabetso (7) slides safely back to first base on a pick-off attempt by Girard during their game Tuesday in Girard. Indians first baseman Bryanna Jay reaches for the ball on the play.
By BRANDON JUDEH
Girard
The Poland softball team has many goals for this season, but one in particular stands out.
An undefeated season.
The Bulldogs got off on the right foot Tuesday evening as they defeated Girard 8-2 in their first game of the season.
Poland's (1-0) star pitcher, Erin Gabriel, struck out 14 batters and allowed only five hits through seven innings.
After the Bulldogs scored three runs in the first inning, thanks to a Girard error and a Gabriel RBI single, things got off to a surprise start for the Indians in the bottom half of the inning.
Junior Kylie Kulon led off the inning by slamming a triple off the center-field fence.
"It made me a little more nervous giving up a leadoff triple to be honest," Gabriel said. "But the way my team was hitting, I knew I would be fine. They had my back the whole way."
After striking out the next two batters, Gabriel gave up a rare run when Nikki Mazzella knocked a single into center field to cut the lead to 3-1.
After that, Gabriel settled in, and her offense did the rest.
The Bulldogs would tack on another run in the top of the second when Marissa Trevis hit an RBI double to increase the lead to three.
In the fourth inning, Poland capitalized on a Girard (1-1) error, one of three the Indians committed on the night, as Kalie Benson came around to score from first base after a throwing error.
Poland added two more runs in the fifth thanks to a walk and three singles, including an RBI by Meredith Testa.
With the score 7-1 in the sixth inning, Poland sophomore Taylor Miokovic stepped up to the plate and belted a solo home run to right field to put the finishing touches on a dominating performance.
"It felt great to hit a home run in the first game. You never try for it, but you swing hard and they come," said Miokovic.
Miokovic also added that getting this first win under their belt is huge for boosting her team's confidence.
Girard made some noise in the bottom of the seventh when Mazzella hit a home run over the center-field fence, but it was too little too late.
Mazzella went 2-for-3 with both of the Indians' RBIs; Kulon also went 2-for-3 and scored a run.
Despite getting off to a hot start, Gabriel knows there is still plenty of work to be done if the Bulldogs want to live up to their high standards.
"We always set the stakes as high as we can and set the bar as high as possible, and going undefeated is one of the things we want, but we don't want to look too far ahead," Gabriel added.
For the Bulldogs, Trevis went 2-for-4 with two RBIs, and Testa went 2-for-4 with a pair of singles and an RBI.