YSU has familiar face in unfamiliar place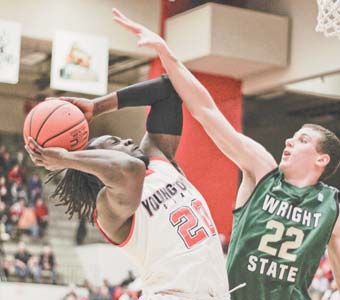 ---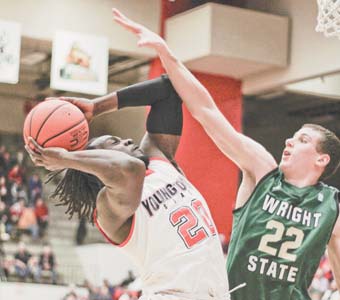 Photo
After four years with the basketball team, YSU senior Ashen Ward (20) joined the football team on Monday. He is slated to play tight end for the Penguins and will have one season of eligibility.
By Joe Scalzo
YOUNGSTOWN
When Ashen Ward was a sophomore at Cleveland's Villa Angela-St. Joseph High, he told the football coach he was thinking of trying out.
"He said, basically, I need to play [football] because I wasn't gonna do anything in basketball," said Ward, who has never played football on any level. "He said you have a better chance of going to a D-I college if you're playing football. You're probably not going to make it in basketball."
That inspirational talk cost VA-SJ a football player and Ward went on to earn a basketball scholarship to Youngstown State, where he became a two-year starter.
When asked if he ever told the coach "I told you so," Ward smiled and said, "He got fired. I didn't have to say much to him."
Fast forward to last weekend. After using up his basketball eligibility, Ward started toying with the idea of playing football. He knew he'd be enrolled in the fall anyway — a special education major, he's finished his classes but still needs to do his student teaching and his field work — so he talked to YSU coach Eric Wolford, then spent last weekend mulling it over.
"We met [Monday] and he suited me up," said Ward, who will have one season of eligibility.
"I've always said the best athletes are in college basketball and pro basketball," Wolford said. "Those guys are just genetic freaks.
"It's going to be an interesting little project for us."
Ward (6-foot-3, 215 pounds) will start at tight end, where his size, athleticism and 41-inch vertical make for an obvious fit. Pro Bowl tight ends Anthony Gonzalez (Falcons) and Antonio Gates (Chargers) were Division I basketball players, as were lesser-known NFL tight ends such as Jimmy Graham (Saints), Kevin Boss (Raiders) and Jordan Cameron (Browns).
All but Gates also played at least one season of college football.
While nobody is predicting an NFL future for Ward, Wolford believes he can develop into a contributor.
"We had him in some fundamental drills and it's not hard to see he's a great athlete," Wolford said, adding that defensive end and wide receiver are also options for Ward. "I think it's just a matter of him sticking with it and finding out which position he can play.
"I don't think he'll struggle. I just think it's a matter of him understanding the concepts and the leverage of what we're trying to do."
Oh, and one more thing. Tight ends — at every level — need to block. Wolford wants to see what Ward will do in a live setting, when he's in his stance and needs to fire off the ball into a defender.
"How's he going to do? Is he going to knock a guy around or is he going to turn it down?" Wolford said. "That's going to be the determining factor, right there."
Ward was a physical basketball player, which is why he should have an easier transition than, say, guard Kendrick Perry. Perry has NFL-type athleticism — he'd make a good cornerback — but Ward isn't sure Perry would be willing to tackle.
"Naaaaah," he said, smiling. "I can't see him doing that.
"He's gonna keep his focus on basketball. He has a chance to be pretty good with that."