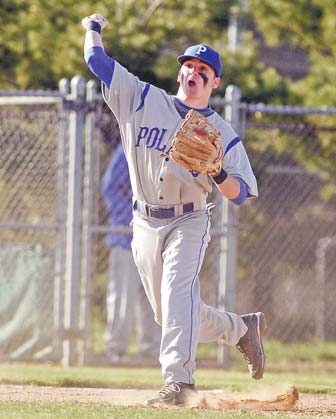 Photo
Poland third baseman Conner Schultheis throws to first base during Monday's game against Ursuline.
By Tom Williams
STRUTHERS
Pitching in 40-degree weather with a biting wind blowing into his face, Ursuline High pitcher Sam Donko is not exactly sure how he stayed warm.
"I don't even know — I usually pace around the dugout with a hoodie on," the veteran said after leading the Irish to a 7-1 victory over Poland in the season opener at Cene Park on Monday.
Scattering five hits and striking out 13 batters in bright sunshine, Donko couldn't recall feeling chillier on the mound.
"This was pretty cold, one of the coldest days I've thrown on," Donko said.
Poland coach Rich Murray was impressed.
"I hope we don't face too many more like him because he was excellent today," Murray said. "He started almost every batter off with a strike. His fastball and curveball, he mixed them up well. He just did a great job."
The only inning that Donko struggled in was the first when he needed 22 pitches to retire the Bulldogs.
After Pat Biel singled and took second base on a passed ball, Nicholas Andrews hit an opposite-field RBI single for a 1-0 lead.
After that, Donko was dominant, throwing 87 pitches for the victory.
"I was real confident," said Donko of escaping the first inning with a one-run deficit. "Finally I relaxed — I was nervous going in, but I found a groove."
With the ball stinging into his mitt, Irish catcher Matt Lacko didn't mind that Donko was sailing along as the game progressed.
"You just have to stay focused, keep your head in the game," said Lacko of the colder temperatures. "Every pitch, you've got to know what you're doing. But it was great to be back on the diamond."
Lacko called Donko's performance "a great outing. His breaking ball was getting better and better as the innings went on and he was just having a great day.
"His fastball was working well, too, but mixing it up with the breaking ball, was good."
In the second inning, Lacko led off with a single and advanced on a wild pitch. Joel Hake reached base on a fielder's choice, allowing Lacko to tie the game.
In the fourth inning, the Irish struck for four runs, knocking Poland starter Pat Carlozzi (0-1) out of the game.
After Ralph Naples drew a leadoff walk, Hake sacrificed him to second. Following Anthony Rohan's RBI single, Harry Finelli tripled to right-center field for a 3-1 lead. Donko followed with a RBI single and scored after a couple of errors.
Ursuline coach Sean Durkin said Monday's temperatures "were fitting for early spring in Northeast Ohio."
Durkin said last week's warmer temperatures should pay off.
"We've been outside more than in any year in the past and it's given everyone a lot of preparation time," Durkin said. "It allowed Sam to get his arm in shape and allow him to a go a lot further than he normally would.
"With the colder weather, we were a little worried, but he does a good job of staying loose."
Murray said he expects the Bulldogs to experience growing pains.
"We have a lot of guys playing varsity for the first time and they don't yet have confidence in themselves to make plays," Murray said after the Bulldogs made seven errors.