Terry McCluskey of Vienna, 62, selected Master Runner of Year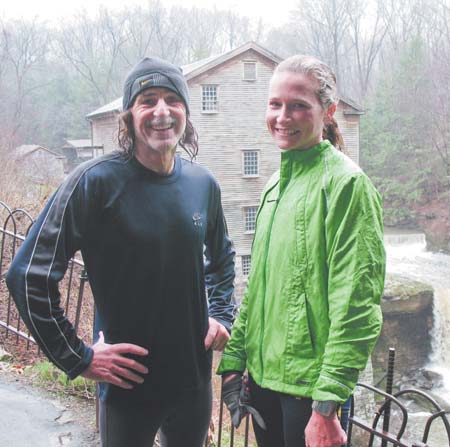 Photo
Terry McCluskey poses with friend and fellow runner Sarah Flament of Poland near Lanterman's Mill at Mill Creek Park, which he says is his favorite place to train. McCluskey, 62, a native of Farrell, Pa., was named the Masters Division male runner of the year by the Road Runners Club of America.
By Joe Scalzo
As a student at Farrell High School in the mid-1960s, Terry McCluskey ran track because he wanted something to do, not something to be.
"I was decent but it wasn't like I had any training goal or wanted to get to any national level," said McCluskey, who graduated in 1966 before attending Slippery Rock. "It wasn't anything I thought about."
Then, at age 33, he started running again to get fit.
"After that, it just snowballed," said McCluskey, who has lived in Vienna since 1976. "I just finally found out I had a runner's body.
"I was built to be a runner."
He was also built to stay a runner. Now 62, McCluskey was named the Masters Division male runner of the year by the Road Runners Club of America. The organization gives out just four running awards each year, honoring the top male and female open division runners (age 40 and under) and top male and female masters runners (41-above). The RRCA considers both performance and community involvement.
"Yeah, it's a big deal," McCluskey said, slightly embarrassed. "There's a lot of good runners across the country and it's something I didn't expect. I was really surprised.
"I was just happy to be nominated. I really thought that was the end of it."
McCluskey had arguably the best year of his career in 2011, beginning the season with an age group victory at the Cherry Blossom 10-mile run in Washington D.C.
Two weeks later, he successfully defended his age group title at the Boston marathon, finishing in 2:48.38 — the fourth-fastest time in Boston history in the 60-64 age group and faster than anyone 55 and older in last year's race.
"It was a great day to run, I felt great and all the planets aligned," McCluskey said. "That race really catapulted me into other races."
In July, McCluskey won the marathon for the 60-64 age group at the World Masters Championships in Sacramento, an Olympic-style meet that's run every two years at different spots around the globe. He capped the year by helping the Ann Arbor Track Club win the men's masters 60-plus grand prix national championship.
Afterward, USA track and field named him the runner of the year for the 60-64 age group.
A medical technologist, McCluskey retired from St. Joseph Hospital on Jan. 1, 2011, giving him more time to train and compete last season.
"I think that's one of the reasons I had such an excellent year," he said. "I had a lot of freedom to come and go and it made a big difference."
Runners are often attracted to the sport because they can compete against their former selves and not just their opponents. But how can McCluskey possibly compete against the 2011 version?
"I keep telling everybody that," he said, chuckling. "I'm so humbled because I just feel like, 'What do I do now?'"