Literacy Night entertains at Union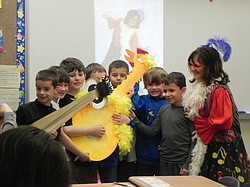 Photo
Neighbors | Sarah Foor .Children's entertainer Tina Tickleini let a group of Union boys play a few notes with a few selections from her interesting guitar selections. Tickleini visited Union for Family Literacy Night on March 8.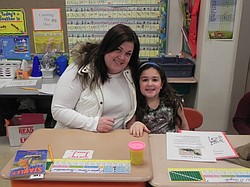 Photo
Neighbors | Sarah Foor .Amy (left) and Camryn Palikaras were all smiles during a Union Family Literacy Night learning station on March 8. The duo had to pick an undesirable animal and learn some interesting facts about them in the station.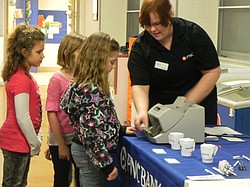 Photo
Neighbors | Sarah Foor .A PNC volunteer showed a group of Union students how a money counting machine works during the school's Family Literacy Night on March 8.
By SARAH FOOR
Union Elementary's March 8 Family Literacy Night urged first- and second-grade students and their parents to think a little deeper than their first impressions.
Principal Mike Masucci hoped the event would provide families with new learning tools in language arts as well as a fun evening for families.
"It's great for parents to see how we're always trying to innovate with new teaching concepts — it fosters confidence in our teachers and our school. We hope that tonight, everyone finds that learning language arts can be a blast," Masucci said.
Student and parent teams visited two writing stations during the event. The first taught formula writing, asking students to write an essay about what animal they'd like to be. The process provided the students with a starting point for their piece and helped encourage the young scribes to be better organized and aware of what they were about to write.
The second writing station had families choose an unseemly or ugly animal and asked them to ask deeper questions about the animal to learn to appreciate the ugly ducklings.
Mom Amy Palikaras learned quite a bit about scorpions and skunks at the station with her daughter, Camryn.
"It definitely opened our eyes. You shouldn't judge just by appearances alone, even in the animal kingdom," Amy Palikaras said.
The event also included visits from PNC Bank and children's entertainer Tina Tickleini.
Tickleini encouraged literacy and learning with songs and demonstrations.
PNC Bank encouraged students to prioritize their money, deciding whether they would like to spend, save, or share their funds.
The bank even got a few lucky Union students started, raffling off $15 so that $5 could head to each spend, save or share collection.
More like this from vindy.com