Hilltop brings the field trip to the students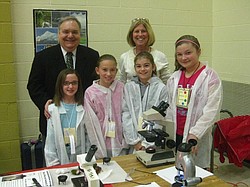 Photo
Neighbors | Abby Slanker .Canfield Local Schools Superintendent Dante Zambrini visited the fourth-grade STEM day at Hilltop Elementary School March 12. He and Hilltop Elementary School Principal Cathy Mowry helped the students at the science station activity of observing various slides and predicting what they are looking at under the microscope.

Photo
Neighbors | Abby Slanker.Fourth-grade students at Hilltop Elementary School watched the dancing Oobleck during the school's STEM Week.

Photo
Neighbors | Abby Slanker.First-grade students at Hilltop Elementary School checked out the magnifying glasses at the look and see table during their STEM day March 15.
By ABBY SLANKER
Hilltop Elementary School students experienced a unique week at school March 12-16 with the introduction of a new program called STEM Week.
STEM stands for Science, Technology, Engineering and Math, and was the brainchild of a group of Hilltop parents.
According to Staci Wills, STEM Week co-chair, back in November, a small group of parent volunteers met with Hilltop Elementary School Principal Cathy Mowry to discuss the possibility of STEM-day activities at Hilltop.
"Financially, our district is not able to provide field trips for our students and this group of parents thought it would be great to bring the field trip to the school. We discussed companies that offer this, such as COSI, the Cleveland Science Center and Carnegie. Those programs are wonderful, but sometimes they are limited to specific grade levels," Wills said.
"It was decided that we wanted an event that would be open to all grade levels and hands-on for each student. We wanted our students to see that science, technology, engineering and math are all around us every day, and not only are these important subjects, but you can have tons of fun while engaged in these subjects."
Serving as STEM co-chairs were Wills and Julie Pugh. Each grade then had its own chairs, including Dianna Prather and Phyllis DeRosa serving as the fourth-grade co-chairs; Steph Kelly serving as the third-grade chair; Dave Wilkeson serving as the second-grade chair; Lisa Farley serving as the first-grade chair and Coleen Plant and Julie Pugh serving as kindergarten co-chairs.
"STEM day is a day where children can explore, communicate, collaborate, be critical thinkers and utilize their creativity in fun and engaging ways. Our goals are simple. We want to encourage all children to have fun learning and to explore their individual, unique talents. Our second goal is to enrich our Parents as Partners Program by inviting parents to share their talents and passions," Mowry said.
Each grade had their own STEM day, and the activities were grade level/age appropriate and each class had one hour to themselves in the gym to explore all the activities.
Fourth-grade students started off the week Monday and enjoyed four activities during their STEM day.
In science, the students focused on discovering the world around us. Activity one included microscopes, which gave the students the opportunity to observe various slides and predict what they were looking at under the microscope.
Activity two was the dancing Oobleck, during which students observed how Oobleck – a non-Newtonian substance – reacted when sound waves pass through it. Students learned non-Newtonian substances have both properties of liquid and solid matter.
Third-grade students continued STEM week with their day on Tuesday.
The science station carried a CSI theme with students having the opportunity to observe various slides and predict what they were looking at under the microscope. The second activity involved chemical reaction, with students will using milk and vinegar to simulate a "blood typing" experiment.
As with the fourth-graders, at the technology station students were given the opportunity to use and observe different technology pieces from years ago to the present and in engineering they also participated in the Angry Bird activity.
The second-grade students participated in their STEM day on Wednesday with a focus on friction at the science station. During the first activity, students measured the temperature of an object before and after it was exposed to friction. The second activity involved skateboards with six ramps covered in different materials, including two with sandpaper, felt, Masonite, wood and rubber. Students predicted which ramp the given object (the control) would roll down slower and faster. Students hypothesized how friction changes the speed of the object down each ramp.
In math, the focus was measurement. Activity one focused on measuring volume with students investigating volume measurements using familiar units of measurement, including pints, quarts, half-gallon, gallon and 5-gallon bucket. Activity two's focus was weights and balances with students figuring out how much 'stuff' they could put on the scale and balance it.
The first-grade students got their chance to experience their STEM day on Thursday.
At the science station, students focused on density in activity one, by predicting which object would float and which object would sink, and made a simple hypothesis as to why an object floated or sunk. Activity two provided the students an opportunity to mix ingredients to observe a "salt" volcano inside a glass jar. Students then discussed what was observed.
The kindergarten students closed out STEM week on Friday by focusing on the science of flight and recycling at the science station. Activity one involved a hoop glider and during activity two the students used various materials to make their own game.
At the technology station, students were given the chance to use and observe different technology pieces from years ago to the present. In math, measurement and geometry was the focus with students following a recipe to measure the ingredients, including Cheerios, cheese crackers, chocolate chips and marshmallows, to create a trail mix snack. Activity two involved a large pegboard students used to make geometric shapes with yarn. Once they mastered making one shape, they were given two shapes that had to fit together to match the 'clue card.'
According to Wills, the technology station was the same for each grade level.
"In technology, all students had the opportunity to explore a hands-on museum of sorts. Volunteers brought in technology pieces from past to present, and students had the opportunity to touch and use any piece they wanted. Technology is cool, but the goal was to emphasize not only how useful technology is, but how quickly it changes. When students left, they were asked to draw or illustrate what they think a cell phone, music, computer or laptop will look like when they graduate," Wills said.
More like this from vindy.com