Canfield twins headed to West Point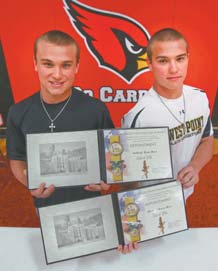 Photo
Anthony, left, and Michael Ross, 18, of Canfield signed their appointment papers Thursday to attend the U.S. Military Academy at West Point. The identical twins will report to the academy in July for six weeks of basic training before beginning their academic and military careers.
By Elise Franco
efranco@vindy.com
CANFIELD
Michael and Anthony Ross exemplify excellence in Canfield School District and will carry that with them to the United States Military Academy at West Point.
The 18-year-old identical twins signed their appointment papers Thursday to the academy in West Point, N.Y. Anthony and Michael, sons of Tony and Lisa Ross, are seniors at Canfield High School and will begin their Army training July 2.
Included with their acceptance into West Point is a four-year scholarship of $475,000 each.
Tony Ross said his sons will arrive at the academy and immediately begin six weeks of basic training before transitioning right into their schooling.
"We've told our sons that the greatest thing you can do in your life is serve," he said. "It's exciting, and we're so proud of them."
Michael said he's always wanted to serve in a branch of the military and knew as early as eighth grade that he wanted to attend West Point.
"I've always felt indebted to my country and wanted to serve," he said. "I'm most looking forward to the people I'll meet there, the various leaders I'll work with, and the opportunities I'll get."
Anthony said that when he looks toward the future, a military education and career is what he sees.
"I am ready to get to work," he said. "I have a picture in my mind of the future. ... I'm looking forward to the challenges this will present."
Anthony said he and his brother will study engineering at West Point, though they haven't decided on a field.
Greg Cooper, the district's athletic director, introduced Anthony and Michael in front of a group of about 200 staff and students Thursday in the high school gymnasium.
"West Point is an outstanding institution that only accepts outstanding candidates," he said. "We're lucky to have them here serving our school and community, and they will now serve our country."
Anthony and Michael maintained a 4.0 grade-point average and will graduate at the top of their class of 238 students, and they both excelled in extracurriculars as well as athletics.
Anthony, the senior class president, also is a three-year letter winner in football and baseball and was a candidate for West Point's 2011 Outstanding Leader Candidate Award.
Michael, the class vice president, is a three-year letter winner in football and two-year letter winner in baseball. And, he was appointed to the United States Naval Academy in addition to West Point.
Both are members of the National Honor Society and Leo's and Key clubs.
Col. Charles Coleman, West Point admissions participant and retired army colonel, said Anthony and Michael are the first set of twins that he's sent to the academy in his 27 years of working with West Point.
"They'll definitely distinguish themselves," he said. "They both presented themselves with an almost identical desire to take their leadership skills to the next level."
Coleman said the pool of applicants started at about 33 and was narrowed to the 10 most competitive. He said two other local seniors — from Boardman and Brookfield — could be headed to the academy as well, but their plans aren't finalized.
Coleman said the twins have all of the qualities needed to be successful.
"Young men and women choosing to go to West Point are doing so knowing they'll almost certainly be put in harm's way," he said. "I have no doubt in my mind that in four years they will graduate and become a successful lieutenant."