Boehner speaks up for Rep. Johnson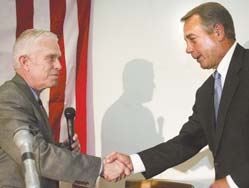 ---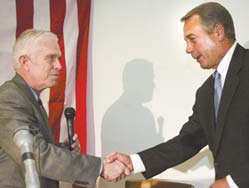 Photo
House Speaker John Boehner, right, and U.S. Rep. Bill Johnson of Marietta, R-6th, exchange greetngs at the GOP headquarters in Boardman.
BOARDMAN
House Speaker John Boehner praised fellow Republican U.S. Rep. Bill Johnson for his dedication to seeking the repeal of the federal health-care law and working to get the economy moving in the right direction.
Boehner briefly spoke to about 100 people Thursday at the Mahoning County Republican Party's headquarters in Boardman before attending a private fundraiser in Canfield for Johnson's re-election campaign.
Boehner said that during the spring of 2010, he heard about Johnson, who was running for political office for the first time.
Johnson's bid to defeat then-two-term Democratic incumbent Charlie Wilson "wasn't quite on the radar screen," he said.
Boehner said Johnson, of Marietta, R-6th, told him at an event in August 2010: "I want you to know something. I'm going to win."
At that point, Boehner said, "I thought, 'You know, this guy is serious.'"
A few days before the 2010 general election, Boehner campaigned for Johnson at the Spread Eagle Tavern in Hanoverton.
During his five-minute speech Thursday at party headquarters, Boehner said the upcoming election will be a "referendum on the president's policies regarding the economy, gas prices and energy, and Obamacare."
Before Boehner spoke, Johnson told the crowd, "I can't tell you how proud and honored I am to be your voice in Washington," and how proud he was to have the speaker support him.
Johnson beat Wilson, of St. Clairsville, in 2010. The two will meet again in the November election.
"Obviously, the Republican establishment is worried; that's why they're sending in the big guns early," said J.R. Starrett, Wilson's campaign manager. "Bill Johnson is being rewarded for being a rubber stamp for Republicans in Washington."
At GOP headquarters, Boehner said the President Barack Obama administration is overreaching in terms of rules and regulations that are making it difficult for the nation's economy to grow faster.
"I'm just a regular guy with a big job," Boehner said. "I've got 11 brothers and sisters. My dad owned a bar. I'm the last guy in the world who ought to be speaker of the House."
The 11-term incumbent added, "Washington is too big, it spends too much and it's too involved in our" lives.
The federal government needs to get "out of the way and let our employers and innovators and investors in America do what they do best," Boehner said.
Tickets for the fundraiser were $10,000 for a table for six and a photo with Boehner, $2,500 for a couple with a photo, and $500 for a person with no picture.
The event was at the Canfield home of Michael Bruno, founder of a major fitness, and medical and health equipment company, and his wife, Yang Lin Qing.