Boardman's Lexi Stutz hooked on hockey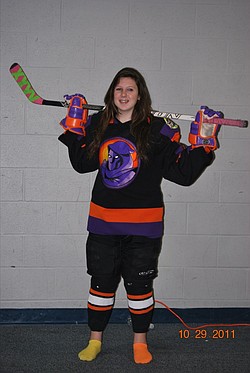 Photo
Neighbors | Submitted .Hockey player Lexi Stutz shared a smile while in the process of suiting up for a Phantoms game this season.

Photo
Neighbors | Submitted .Boardman native Lexi Stutz plays hockey on the Youngstown Phantoms boys team as well as the all-girls Pittsburgh Predators. Stutz (center) smiled during a recent tournament win with her Predators teammates. The Predators are heading to the USA Hockey National Championships in Dallas, Texas on March 28.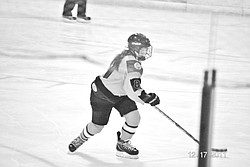 Photo
Neighbors | Submitted .Boardman native Lexi Stutz is a hockey standout on the local and national stage. Stutz plays for the girls hockey team Pittsburgh Predators, as well as the Ice Zone's Phantoms Bantam boys team. A photo from Stutz's season with the Phantoms shows her working hard during a game last December.
By SARAH FOOR
When Lexi Stutz was 5 years old, she strapped on a pair of ice skates to play for her first hockey team. A short seven years later, Stutz will be taking her second trip to the USA Hockey National Championships, held this year in Dallas, Texas, March 28 to April 1.
Stutz's rise from beginner to hockey dynamo has come from years of hard work, dedication and a clear love for the game.
"I like hockey because it's fun. When I'm out there on the ice, I just feel the wind on my face and it's like no one can touch me. I feel unstoppable," Stutz said.
The athlete's journey began at age 5, when she was asked to join a girls hockey team in Youngstown. Always struggling to find new players, the girls team eventually folded, but Stutz's growing talent garnered the attention of the youth hockey coaches at the Ice Zone, who invited her to join the boys Phantoms team.
"They never treated me like just a girl on the team. They pushed me to be a player that brought something to the ice for every game," she said.
On the insistence of her Phantoms coaches, Stutz pursued a tryout in Pittsburgh two years ago for the all-girls Predators team. Stutz now balances her time between the two hockey programs.
Although both teams had great seasons, she will be visiting Dallas with her U12 girls Pittsburgh Predators team.
Stutz's parents, Kymberlie and Larry, help balance Lexi's many appointments, whether it is a trip to the Ice Zone for the Phantoms or a drive to Pittsburgh for the Predators, as well as Lexi's involvement in volleyball and basketball at Glenwood Middle School.
"I let Lexi follow her passion. Being part of hockey has offered her so many great role models and coaches in Youngstown and Pittsburgh who pushed, and continue to push, Lexi to pursue her skills," said Kymberlie Stutz.
Stutz isn't sure how far she wants to go with her hockey career quite yet. However, during a recent Predators practice, former Predator Erica Dobos talked with the girls about her place on the Dartmouth women's hockey team and exploring the sport further.
"She was really inspiring. I think I'd like to get a scholarship and play hockey in college. I still have time to think about it though," Stutz explained.
In the meantime, she'll be representing Boardman and the Mahoning Valley with pride in Dallas and hopefully inspiring other local girls to get involved in the sport she loves.
"I want to show that hockey isn't just a guy's sport. Anything boys can do, girls can, too," Stutz said.
For any youth athletes inspired to get involved, open tryouts for the Phantoms Youth Hockey program are April 3-4 at the Boardman Ice Zone.
More like this from vindy.com