Ed Port's new face of hope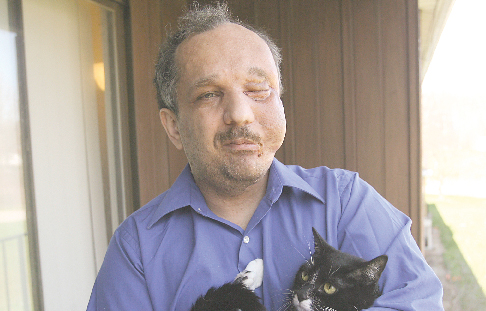 ---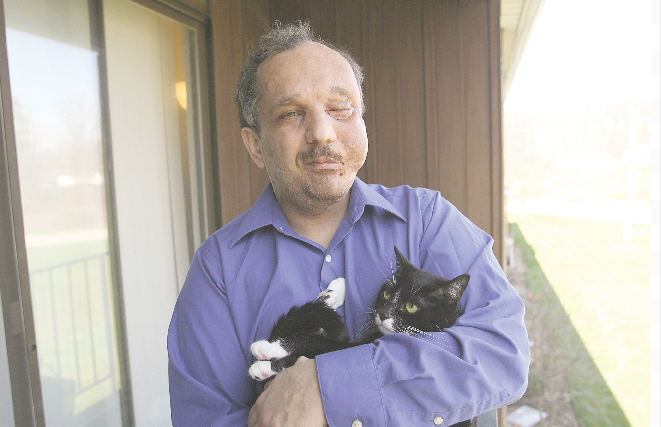 Photo
Austintown resident Ed Port, 41, poses with his cat, Spike, on the balcony of his apartment. Earlier this month, Port, who suffers from neurofibromatosis, underwent a third surgery to remove large tumors that covered much of his face.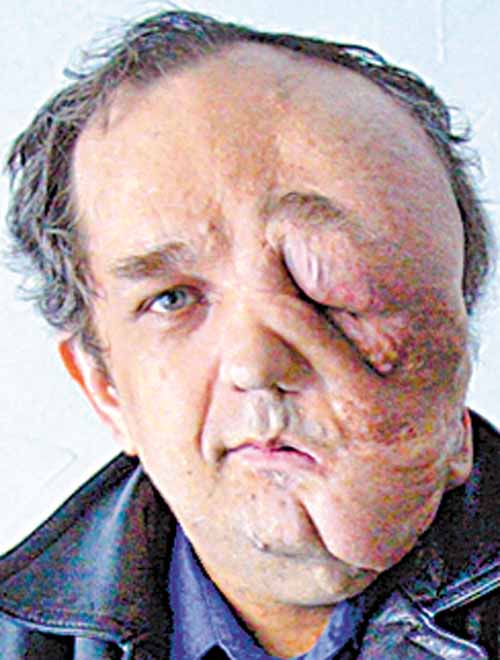 Photo
By DENISE DICK
denise_dick@vindy.com
AUSTINTOWN
His face is more symmetrical, his features more uniform.
After years of waiting, Ed Port is recovering from the third surgery to remove tumors that obscured the left side of his face and dotted other parts of his body.
He looks like a different person.
"I look in the mirror and I know that it's me, but I can see how some people who haven't seen me in awhile don't recognize me," said Port, 41.
The most recent operation was March 7 when the doctor used skin from behind his right ear for a skin graft on his left eye, removed more tumor from inside his left eye and from his from cheek and took out a fist-sized tumor from his side. The operation lasted about six hours, and he returned home Tuesday.
Port's left eye remains swollen shut, and a portion of his left cheek is still puffy.
He expects at least one more surgery to remove smaller tumors from his back and chest.
Port was born with neurofibromatosis, a genetic disorder that causes large tumors. For years, he was told by insurance companies that the surgeries required to remove them were considered cosmetic and wouldn't be covered.
About a year ago, he found a company that at least so far has agreed to cover the procedures. Port met with Dr. McKay McKinnon, a Chicago plastic surgeon who has operated on others with NF, and felt comfortable with his doing the surgeries he needed.
Where his appearance pre-surgery used to scare children and make them cry, now it draws more curiosity. When he smiles at them, they smile back.
Apart from his appearance, though, Port is grateful to be free of almost daily migraine headaches he suffered because of the tumors. His head is lighter, and when he leans forward, he's not weighted down by the shift of the additional mass.
Last June, Port traveled to Chicago for his first surgery. It lasted 12 hours as Dr. McKinnon removed much of the large tumor that covered the left side of his face and used a piece of his skull to rebuild his orbital bone and a titanium plate to restructure his cheekbone.
The tumor had worn away the orbital and cheek bones, allowing his brain to begin to push through the eye socket.
That's something Port was unaware of until Dr. McKinnon pointed it out to him on an MRI, and he believes it would have killed him.
As a child, Port underwent several surgeries to remove the tumors, but they always returned. Though new tumors could grow, he's confident those extracted by the plastic surgeon won't come back.
"He has an 11- or 12-year track record with tumors he's removed of them never coming back," he said.