Ward retires after 14 seasons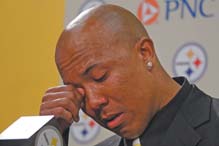 Photo
Former Pittsburgh Steelers receiver Hines Ward wipes his eye while announcing his retirement from the NFL at the Steelers' offices in Pittsburgh on Tuesday.
Associated Press
PITTSBURGH
Hines Ward believes he can still play football. The longtime Pittsburgh wide receiver known for his high-wattage smile and his bone-crunching blocks just couldn't stomach the thought of doing it in some strange uniform on some strange field with nary a Terrible Towel in sight.
"I just wouldn't feel right," Ward said.
So rather than play for a 15th season — and his first outside the Steel City — a tearful Ward opted to retire on Tuesday and secure a legacy unmatched in the franchise's long history.
"I can say I'm a Steeler for life and that's the bottom line, that's all I've really ever wanted," Ward said.
Ward holds every significant franchise receiving record, including receptions, receiving yards and touchdowns. His 1,000 career catches rank eighth all time and he is one of two players with at least 1,000 receptions and two Super Bowl rings.
The decision comes three weeks after the 36-year-old was released by the Steelers in a salary cap maneuver. Ward says he was contacted by several clubs but never had any formal discussions. He insists there are no hard feelings for his release, understanding that football is a business. As if to prove the point, Ward embraced Steelers owner Art Rooney II after stepping away from the podium following the announcement.
"Thank you [Mr. Rooney] for giving a small town boy from Forest Park, Ga., a chance," Ward said.
The third-round pick out of Georgia was due to make $4 million next season, an expensive option for a player whose role diminished significantly in 2011 when he finished with 46 receptions, the fewest since his rookie season in 1998. He embraced his role as mentor to Pro Bowlers Mike Wallace and Antonio Brown even though he knew they were chewing into his playing time.
"I know the wideouts are going to be in great hands," he said. "They're full of talent."
And they're part of an offense that didn't exist when Ward made his debut 14 years ago. He spent most of his first three seasons blocking for running back Jerome Bettis, something he did better than any receiver in the league.
Over time, the Steelers evolved from the grind-it-out attack that has been the club's identity for decades. Ward's breakout season came in 2001 when he set a franchise record with 94 receptions then obliterated that mark in 2002 with 112.
He made four straight Pro Bowls from 2001-2004 and seemed to get better with age. He was named MVP of the 2006 Super Bowl after catching five passes for 123 yards and a touchdown in Pittsburgh's 21-10 victory over Seattle, the franchise's first championship in 26 years. The Steelers added a second title in 2009 to give them six, more than any other team in the league.
Ward hoped to get the Steelers their seventh Lombardi Trophy but didn't catch a pass in a 29-23 overtime loss to Denver in the wild card round of last year's playoffs. Only one pass came his way, a dart down the sideline by quarterback Ben Roethlisberger during Pittsburgh's final drive in regulation. Denver cornerback Champ Bailey swatted the ball to the ground.
The former "Dancing With the Stars" champion could have a lucrative postseason career in front of a camera — he worked the red carpet during the Oscars — but he maintained after his release he could still contribute. He still does.
"I feel like I have a few more good years in me left," Ward said. "I would love nothing more to get back to the Super Bowl."
He wasn't willing to do it, however, outside Pittsburgh.
"I want to go down as one of the greats to wear the black-and-gold and that's how it should end," Ward said.
"I want my legacy here to say, you know what he was one hell of a football player who gave it his all," Ward said. "I'm truly blessed. I played in three Super Bowls, won two Super Bowls, was Super Bowl MVP ... what more could a player want out of his entire football career?"