Mahoning official, dad attend dinner at the White House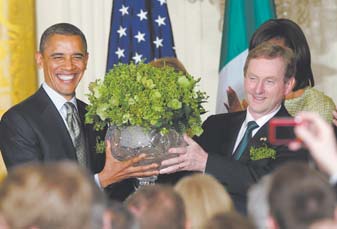 Photo
President Barack Obama, left, holds up a bowl of shamrocks that was presented to him by Irish Prime Minister Enda Kenny, right, during a St. Patrick's Day reception in the East Room of the White House in Washington on Tuesday.
YOUNGSTOWN
Mahoning County Commissioner John McNally IV and his father, John McNally III, dined with President Barack Obama and Irish Prime Minister Enda Kenny and their respective spouses at a White House dinner.
Tuesday's dinner was three days after St. Patrick's Day, but the Irish holiday was the focus of the invitation-only event.
It was Kenny's last official event during his five-day visit to the United States.
"We [were] both very excited to be invited and to go," the younger McNally said.
The two attorneys drove together Tuesday from Youngstown, where they both live, to Washington, D.C., for the dinner.
It was the first time either had been invited to the White House. Both are unsure why they were invited.
The commissioner said he is friends with Carri Twigg, the Democratic National Committee's outreach director for strategic projects, having met her when she was political director with the Ohio Democratic Party.
The invitation to the dinner arrived at McNally's home about 21/2 weeks ago, and Twigg called him, reminding him to RSVP.
"I don't know if that had anything to do with it," McNally said.
McNally sent updates throughout Tuesday's event on the social media website Twitter. He said he met U.S. Ambassador to Ireland Dan Rooney and former Steelers football players John Stallworth and Franco Harris.
McNally also shared several pictures online, including one of him and U.S. Rep. Tim Ryan of Niles, D-17th, in a group under a portrait of President John F. Kennedy where he added the caption, "This picture is destined for the walls of the Golden Dawn [a Youngstown restaurant]!"
It was a week ago that Elaine Brye and her husband, Courtney Brye, of Winona in Columbiana County, were invited guests to a White House state dinner in honor of United Kingdom's Prime Minister David Cameron. The Bryes sat near first lady Michelle Obama and actor George Clooney.